Updated on June 25th, 2022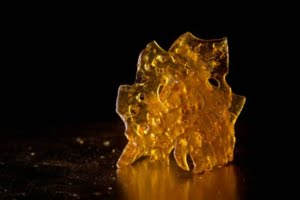 While smoking and ingesting cannabis herb are well-established methods for using marijuana, THC dabs are relatively new. This method has only been around for about ten years.
A somewhat challenging "concentrate" to both make and use, dabs have an exclusive – but growing – fanbase. The benefits of this product skyrocketed its popularity, but it is not for everyone. Furthermore, with its advantages come some severe concerns.
Dabbing is famous and infamous. While relatively easy to do, "dabbing" carries some serious risks – both known and unknown. A complete understanding of THC dabs is essential before trying this mode of delivery.
iDWeeds does NOT sell CBD/THC (Cannabis) merchandise. We compare products from trusted brands based on potency, value, and consumer satisfaction. As CBD and THC demand creates a flood of shady scam sites, our mission is to prevent dissatisfaction and keep you from consuming a low-quality, contaminated product.
When you order from one of these links, we may receive some compensation. Nonetheless, our reviews are honest, fact-based, and verifiable, thanks to our transparent testing procedure. See our full notice.
THC Dabs Shop Catalog – United States
Eaze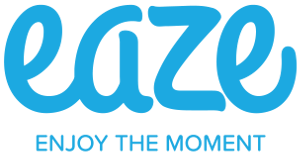 On-demand delivery of cannabis products within California
Flowers, Concentrates, Carts, Edibles, Drinks, Body Care & more
Splitbud

Same Day Delivery in California
Flowers, Concentrates, Edibles, Carts & more
Use code WELCOME25 for $25 off your first order of $100 or more
Spending less? Get $10 off with code WELCOME10
Moxie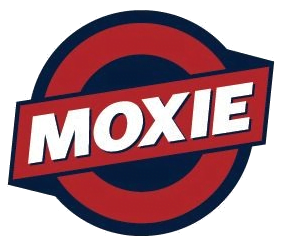 Same Day Delivery throughout Los Angeles and Orange County California
Flowers, Concentrates, Edibles, Carts & more
Save 20% with Coupon Code: "M420"
Get My Medical Marijuana Card Online
Get my MMJ card
How to order your MMJ Card online in just three simple steps?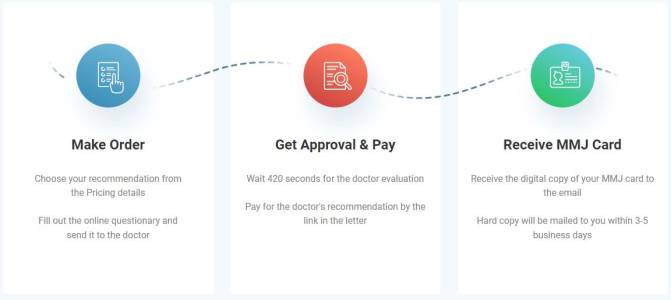 THC Dabs Shop Catalog – Canada
Herb Approach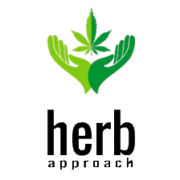 Mail Order Cannabis
Canada
Flowers, Concentrates, Edibles, Topicals, Mushrooms, CBD
Buy My Weed Online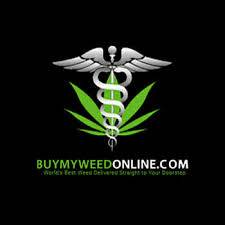 Online Marijuana Dispensary
Canada
Flowers, Concentrates, Edibles, Vapes, Topicals, CBD
What are THC Dabs?
THC dabs go by many names – wax, shatter, butter (not to be confused with edible "cannabutter"), and butane hash oil (BHO). The extraction process creates a brownish, amber-like substance with a gooey consistency.
They are "concentrates," which are a category of cannabis products known for their powerful potency. Depending on the quality, dabs – like all concentrates – can have a THC level of 60-90% (except cannabis crystals, which reach 99.9% in their purest form).
This is significant, considering even the most potent dry herb strains rarely make it past the 30% mark. The best thing is that there's THC wax for sale online in some states now.
Extraction Process
While making cannabis-infused oil or butter at home is relatively easy to master with a few simple steps, THC dabs carry a whole new level of complexity. They are also called butane hash oil because butane is crucial for separating THC from its plant material.
However, there is a more advanced, cleaner, and a safer method called CO2  extraction, which uses compressed carbon dioxide gas. Regardless of the method, creating dabs at home takes significant skill and is not recommended.
Commercially produced dabs have the advantage of being processed by trained specialists in a quality-controlled environment. But since recently, you can buy THC oil online as well as dabs and other THC products.
Butane Extraction
Butane extraction is the older method of creating dabs. As its title implies, the catalyst here is butane gas. Producers place ground cannabis and butane into an extractor, using a heat source to create the product gradually.
Granted, this is a vast oversimplification, but butane is highly flammable. With this in mind, we prefer not to disclose the specifics in the interest of safety.
Advantages
Commercially produced dabs made with butane do carry some excellent benefits.
First, butane does a much better job of preserving terpenes, which provide extra flavor and contribute to the final product's efficacy. We will go over the importance of this aspect in the section below.
Second, butane extraction allows for more diversity in terms of the final product, offering a greater variety for consumers.
Finally, this method typically produces a more potent dab, ideal for people looking to get a more powerful high.
Disadvantages
Unfortunately, butane's defects are pretty significant.
Most notably, butane's instability makes the process quite dangerous. One stray spark could result in a catastrophic explosion that will injure or even kill anyone in the immediate vicinity. Again, this is why it is best to leave the cooking to the experts.
Butane is also a petroleum product, making it a "dirtier" option. Even the best-made dabs could contain solvents left behind in the final product.
This also means butane is not environmentally friendly.
CO2  Extraction
The newer method, hypercritical carbon dioxide extraction, is radically different from its petroleum-based counterpart. Rather than using a heat source, this process applies significant pressure to carbon dioxide gas, turning it into a liquid. This liquid then becomes a helpful solvent for extracting the THC.
Unlike butane extraction, the carbon dioxide method requires highly sophisticated industrial equipment, making it impossible to produce at home. This same method producers also use for making CBD dab concentrates.
Advantages
In terms of safety, the difference between CO2  and butane extraction is like night and day. Carbon dioxide is inert, meaning it cannot explode or catch fire.
Carbon dioxide is also substantially cleaner. The liquid completely evaporates by the time the process completes. Consequently, residual solvents are a non-issue.
Since petroleum is not involved, using CO2  leaves no environmental impact whatsoever.
Disadvantages
While the carbon dioxide method has drawbacks, they are more benign than those associated with butane.
First, the extraction process makes it more challenging to preserve terpenes, so the final product is virtually identical across the board. Consequently, dabs are often flavorless.
Second, carbon dioxide extraction is much more expensive, which often passes on to the consumer. This is equally true for cannabidiol, as CO2 extraction doesn't result in cheap CBD wax.
Finally, the end product is typically weaker, but the THC distillate price is higher than with butane extraction.
The Importance of Terpenes
Earlier, we mentioned terpenes and how they affect THC dabs. Terpenes are compounds naturally found in all plants, cannabis being one of them. Some impact flavor, while others have medical benefits.
Terpenes are what make strains unique. These natural ingredients are what make one type of herb relaxing, while another could be more stimulating. It allows users to pick and choose their experience, as long as they understand what the specific terpenes do.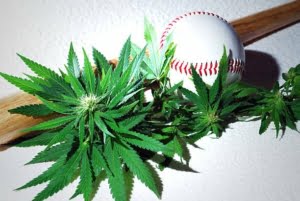 The Entourage Effect
The reason why terpenes are so important (and why dabbers might brave the risks of butane) is that of the "entourage effect". To illustrate, imagine terpenes and THC as a sports team. THC is the most valuable player, while terpenes form the rest of the group.
When terpenes and THC work together, they have a more substantial chance of winning the game. THC without terpenes – despite being the best player – will not stand a chance on its own.
This is basically how the entourage effect works. THC and terpenes band together to be more productive, leading to a more potent, more unique high.
Terpenes are essential for medical patients, who may need to treat specific symptoms that only certain terpenes will address.
Strains
Since carbon dioxide extraction removes most – if not all – additional cannabinoids and terpenes, the source strain makes no difference. The butane method, on the other hand, does preserve these things, which will impact its effects.
There are four available varieties – Indica, Sativa, hybrid, and hemp.
However, the difference between strains is a myth that ingrained itself in cannabis culture. The two "pure" strains, Indica and Sativa, are believed to have uplifting and soothing effects, respectively. Other sources say the opposite.
In reality, there is no evidence suggesting Indica or Sativa have behaviors exclusive to each. The only confirmed difference is their physical appearance and yield. Like hybrids (a balanced mix of both main strains), Indica and Sativa will affect users based on terpene content.
The only strain with unique properties is hemp. Unlike the previous three, hemp contains only trace amounts of THC, dominated instead by the non-psychoactive (but medicinally useful) CBD.
We reviewed some of the best CBD flower available. Here it is more about the medicinal effects than getting high.
Hemp also has industrial applications, while its counterparts do not. Despite this, budtenders, and even MOM Canada, will often guide users based on these erroneous beliefs.
Instead, customers should educate themselves about terpenes and choose their products based on that content. Even if you buy weed candy online, it is essential to inform yourself first.
Using Dabs
Using THC dabs is unlike anything seen in the cannabis world. Users do not ingest them like edibles or smoke them using conventional smoking tools. But they use dabs with basic dabbing equipment or more advanced products, which you can't even get in every online marijuana dispensary in Canada.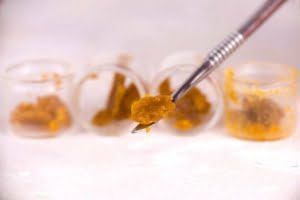 Nail and Torch
The most basic method requires a dab nail and a small, hand-held blowtorch. If this seems dangerous, this is because it is; however, users can avoid accidents by exercising common sense and caution.
Dabbers take a small amount of concentrate and put it on the end of the dab nail. Once they heat it with the blowtorch, the product produces a vapor, which users inhale.

E-Nail
Consumers' desire to avoid potential burns gave rise to the e-nail. This device is very much like a large electronic cigarette (vape). Rectangular in shape and sporting customizable temperature controls, this takes fire entirely out of the equation.
Dabbers who want to stick with a basic nail method while doing it safely should opt for e-nails.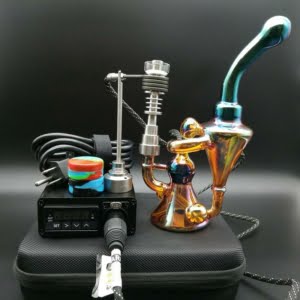 Dab Rigs
Dab rigs come in all shapes, sizes, and complexities. Some resemble very intricate, almost alien-looking bongs, while others are pretty basic. Like bongs, the smoke builds inside a chamber so you can inhale it.
Some of these products have nails built right in, which users can light with a torch. They may also come with e-nail attachments.
Larger rigs offer better chambers and a richer experience. Typically, this requires a separate nail, allowing dabbers to select the fire method or e-nail option.
Advantages
THC dabs certainly earned their popularity, considering what they bring to the table. Take these into consideration when deciding whether dabbing is an appropriate choice.
Potency
Again, dabs are pretty potent, with high-quality products reaching up to 90% THC. This allows users to get a powerful effect with very little material.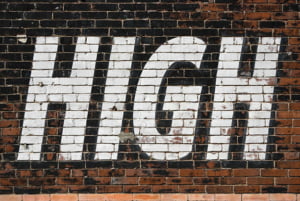 Healthier than Herb
Smoking dry herb is the gold standard, but it has some drawbacks. Coughing is something that many people find unpleasant. Making matters worse is that prolonged use can lead to throat or lung irritation, not to mention particle buildup in the lungs.
While you still inhale dabs, they do not contain the same irritants created by burnt plant material. You can also dab CBD, so for the sake of your health, you could consider changing your CBD cigarettes pack for a dabbing rig.
Fast Relief
Medical users, like ALS patients or fibromyalgia patients, often turn to dabbing as a way to relieve severe pain. When discomfort sets in, immediate relief is critical. Dabs provide this.
Disadvantages
Aside from the dangers of homemade products, using THC dabs carries some considerable risks.
Contaminants
Although dabs do not contain identical irritating particles like smoke, products created with butane can leave behind some harmful pollutants. To avoid this, users should be very selective about their providers. An even better way is only to purchase dabs made using carbon dioxide extraction.
Side Effects
Dabs are potent, as are their potential effects. Many dabbers report rapid heartbeat, severe paranoia, powerful anxiety, loss of consciousness, and even hallucinations. Be very careful when dosing.
If getting high isn't your thing, why don't you look at delta 8 THC benefits?
Cost
Dabs are particularly expensive for two reasons. First, the dabs themselves are pretty pricey.
Second, proper dabbing equipment is not cheap.