Updated on August 8th, 2023

Established in 2014 by now-CEO Sequoia Price, Lazarus Naturals is a retailer specializing in hemp-derived CBD wellness products. The company currently is headquartered in Seattle, Washington, but has growing operations in Oregon.
Their items are available to customers throughout the U.S. and abroad.
To establish themselves as an authority in the (rather crowded) CBD market, Lazarus Naturals belongs to a variety of hemp and natural health organizations – including the American Herbal Products Association and the Oregon Industrial Hemp Farmers Association.
Lazarus Naturals CBD Product Line
Products are available in isolate and full-spectrum. All are subjected to third party lab tests available on each respective product's web page.
Two ways of ordering Lazarus Naturals CBD
Ordering at low-price CBD.co market
Higher iDWeeds 15% Coupon Discount *
Massive Selection of Brands
Quick Shipping
Ordering at Lazarus Naturals (official webshop)
iDWeeds 10% Coupon Discount *
All Lazarus Naturals products
Assistance program
Lazarus Naturals offers several tinctures made with full-spectrum hemp extract or isolate. Each bottle comes with a measured dropper for maximum accuracy. Available in High Potency and Standard Potency options.
Made with full-spectrum hemp extract Rick Simpson Oil (RSO) is an unflavored, all-natural CBD product. It contains a hefty mix of CBD and naturally-occurring terpenes suspended in fractionated coconut oil.
CBD capsules are available in both full-spectrum (10mg, 25mg, and 50mg pills) and isolate (25mg capsules). A Cycling Frog line of soft gels is also available (100mg per capsule).
They have two forms of CBD isolate for sale. Bulk CBD Isolate is strictly isolated CBD, while Cycling Frog comes in isolate or terpene-infused options.
Organic coconut oil infused with full-spectrum CBD extract. Intended for cooking, it is unflavored and available in one or four fluid ounce options.
CBD Topicals are universally full-spectrum and available as standard balms or massage oils.
The retailer offers CBD pet tincture products. Calming CBD Oil Pet Tincture is full-spectrum, while Sensitive Pet CBD Oil is made with isolate to eliminate the "hempy" taste for pets who reject the flavor.
Shipping Locations
Lazarus Naturals offers 3-day shipping to all fifty states. Additionally, they ship to over 20 countries. Customers outside the U.S. are encouraged to check their country's laws regarding the purchase of hemp-based CBD products.
Certificate of Lab Analysis
All of Lazarus Naturals' products undergo third-party lab testing with every batch. Each is assigned a lot ID and QR code for easy reference. 
Full-Spectrum CBD Tincture – 6000mg
Cannabinoid Profile Lazarus Naturals 6000mg CBD Tincture
The High-Potency Tincture we analyze in this CBD oil review consists of either full spectrum or isolate hemp extract (depending on product choice) suspended in fractionated coconut oil.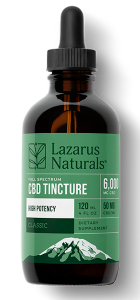 Isolates contain no additional compounds.
The High Potency tinctures have:
They come in 15ml, 60ml, and 120ml bottles, respectively.
Keep in mind that the CBD levels remain constant. The actual CBD amount reflects volume, not concentration. This means that regardless of which product you choose, the potency is still 50mg/ml.
The company also has a "Standard Potency" tincture for sale- in the same size range of bottles – but with a CBD concentration of 15mg/ml. Per bottle, this translates to:
Unfortunately, this product is unflavored, with no additional flavor options. It is only available in full-spectrum.
An examination of the latest batch tests (as of January 2020) shows a fairly diverse cannabinoid and terpene profile for the full spectrum tinctures. Aside from CBD, there are decent levels of cannabigerol (CBG), cannabinol (CBN), and cannabichromene (CBC).
THC levels remain well below the 0.3% legal limit.
Terpene analysis revealed the presence of:
Caryophyllene
Humulene
Guaiol
Bisabolol
Isolate tests show no presence of other cannabinoids or terpenes (as expected).
Products are also tested for solvent traces, heavy metals, pesticides, microbes, and other contaminants – all of which come back negative or well within acceptable levels.
Their High Potency line of tinctures are naturally-flavored and available in three full spectrum options:
Classic (unflavored)
Chocolate Mint
French Vanilla Mocha
There are four High Potency isolate tincture flavors. Customers can choose between:
Classic (unflavored)
Blood Orange
Tropical Breeze
Winter Mint
Benefits
Lazarus Naturals does not formulate its tinctures for specific therapeutic purposes. The only thing setting them apart is their flavors (or lack thereof). However, cannabinoid and terpene profiles offer several health benefits.
Pain Relief
Analgesic
CBD is well-known for its ability to reduce pain, as is CBN. However, they both have their limits. For severe pain, dispensaries have THC tinctures for sale.
Anti-Inflammatory
CBD, CBG, CBN, and CBC all share anti-inflammatory properties. This makes them potentially helpful for conditions like arthritis or sprains/strains.
Similarly, caryophyllene and guaiol also fight inflammation. However, caryophyllene is well-known for its analgesic properties.
Antibacterial
Although CBD is not known to have such properties, there is evidence to suggest CBC and CBN have antibacterial/antifungal benefits.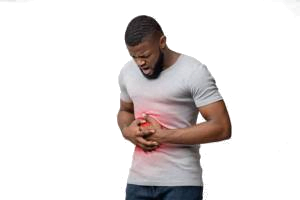 Anxiety Relief
There is much anecdotal evidence that CBD and CBN are effective against stress and anxiety and the terpene Caryophelene adds to the anti-anxiety entourage effect. The best CBD tincture for anxiety contains several anti-stress terpenes in high concentrations.
Sleep
Aside from CBD, CBN is also a handy tool against insomnia.
Caryophyllene is also an effective sleep aid.
Humulene and bisabolol also offer the same effects.
Ingredients
What We (Don't) Like
Lazarus Naturals certainly holds its own among the many competitors but is not quite a top CBD oil. However, there are some concerns.
Limited Strength Options
Only two strengths: 15mg/ml or 50mg/ml. Consequently, people who need a large dose need to consume more tincture.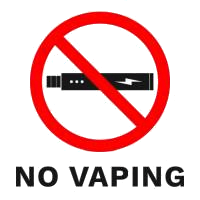 No Vape Products
Many people prefer to inhale CBD due to its fast-acting properties, which is not an option when buying from this company.
Best case scenario, tinctures need at least 30 minutes to take effect. This is hardly convenient when individuals need quick relief from pain, inflammation, or insomnia.
Not Organic (Yet)
Currently, Lazarus Naturals does not use certified organic hemp. To their credit, the hemp is still non-GMO and free of pesticides. They plan to become organic in 2022.
Ethanol Extraction
Alcohol extraction is reasonably clean but not nearly as effective and pure (or expensive) as industrial CO2 extraction. Unfortunately, this means that trace amounts of solvent will inevitably be left behind.
Ethanol extraction also leaves chlorophyll behind, causing a more bitter taste than non-ethanol hemp extracts.


Flavor Limitations
The flavor selection is decently varied, but certain flavors are restricted to full-spectrum or isolate. Individuals who want a specific taste, may be forced to choose isolate – or vice-versa.
Additionally, the standard strength tincture only comes in an unflavored variety. Consequently, individuals will have to put up with the "hempy" taste, in addition to the bitterness caused by the ethanol mentioned above extraction method.
Few Terpenes or Cannabinoids
Examination of the third-party lab tests shows good cannabinoid and terpene concentrations but little variety. There are only three other cannabinoids present in the full spectrum tinctures.
Furthermore, the products contain only four different terpenes as of the January 2020 batch tests.
Where is Lazarus Naturals Located?
Lazarus Naturals is located at 1116 NW 51st St. Seattle, WA 98107.
Where to Buy Lazarus Naturals?
Buy directly from Lazarus Naturals at lazarusnaturals.com via one of the links on this website, or from several local retailers nationwide.
How Many Drops of Lazarus Naturals High Potency?
How to Vape Lazarus Naturals CBD Oil?
How Much THC is in Lazarus Naturals High Potency Tinctures?
Lazarus Naturals Which is the Best CBD to Take for Severe Pain?
Full spectrum Lazarus Naturals CBD products are the best to take for severe pain, since they additional cannabinoids and terpenes amplify the effect.
Topicals are best for localized pain, while capsules, tinctures or RSO help relieve general pain.
Why is Lazarus Naturals so Cheap?
Lazarus Naturals is so cheap because 70% of its hemp is grown in-house. They also use ethanol extraction, which is much less costly.
It is also very cheap for veterans, those on long-term disability and individuals with lower incomes, who receive a 60% discount.
Where to Buy
The safest and most affordable way to buy is straight from the manufacturer online. As there can be knock-offs and scams, make sure you get the real deal at the lowest price.
Click on the button below to go straight to the official website where you can apply our coupon code discount.
Sources
https://www.fda.gov/newsevents/publichealthfocus/ucm484109.htm
https://www.cbdoil.org/lazarus-naturals-cbd-review/
https://honestcbdreviews.com/lazarus-naturals-review/
https://thesleepdoctor.com/2018/11/27/thinking-about-using-cannabis-for-sleep-here-are-some-things-to-know/
https://remedycolumbia.com/terpenes-for-pain/https://greenleafmc.ca/blog/terpenes