Updated on January 4th, 2022
Joy Organics is yet another American company based in Colorado. They provide broad-spectrum CBD products which are 100% THC free and of outstanding quality. Joy Organics produces their products according to a 7-step quality assurance process and from organically Colorado-grown hemp.
Their unique manufacturing process ensures high-CBD-content products. They achieve broad-spectrum by keeping the whole plant, terpenes, flavonoids, antioxidants, and fatty acids. Joy Organics provides high quality because each batch goes through a lab test in their in-house laboratory.
Joy Organics CBD oils have probably one of the highest CBD contents in the industry. Recent independent tests showed that a good part of CBD brands do not contain the amount of CBD they mark on their labels. Therefore, smart people, before they purchase a CBD oil, always study reviews to find the best CBD oil brands.
Joy Organics Product Line
Joy mainly concentrates on tinctures, but they also have softgels, skincare, hemp beverages like hemp beer, and pet CBD for sale.
You have the choice between four strengths and four tastes.
They offer softgels in two strengths (10 mg and 25 mg per capsule) for easy dosing.
10mg CBD Gummies with different tastes.
CBD Vape Pen
A convenient disposable vape pen with a mild citrus flavor.
Soothing salve, Day Cream, Night Cream, Face Serum, Eye Serum, Face mask
They have CBD dog treats and CBD oil pet tinctures.
Water-soluble energy drink mix with CBD and caffeine.
Shipping Locations
Joy Organics ships only nationwide to all 50 States. It's best to order directly through their website and apply our coupon code discount. There are a lot of resellers on the internet, that otherwise could come in between and rack up the price.
In addition, you risk getting fake products when ordering from others. iDWeeds independently reviews directly from the source.
Certificate of Lab Analysis
Since all Joy Organics products are quality tested by an independent third-party lab, they ensure you get the best product possible. A Certificate of Analysis is available on their homepage.
Click on a product that suits your needs and go to the order page.
Cannabinoid Profile Joy Organics CBD Oil Tincture 1500mg
Joy Organics sells their CBD oils in four concentrations: 250mg, 500mg, 1,000mg, and 1,500mg CBD per 1 oz (30ml) bottle. These are true broad-spectrum oils with high CBD and CBDa content. The variety of Terpenes in these oils is second to none and ensures a great 'entourage effect'.
Besides selling excellent oils, their topical ranks in our top 5 of the best CBD cream. They also carry a hemp oil skincare line with various CBD products.
Joy also offers a great pain salve, but does it hold its ground vs. the Nanocraft CBD pain stick specializing in sports?
The company breeds the Joy Organics' hemp strain to be very high in CBD, almost 95%. The remaining 5% are minor cannabinoids, terpenes, flavonoids, antioxidants, and fatty acids.
Joy Organics only sells THC-free hemp products. They have their in-house lab, but they also do tests at independent laboratories. Look for the best CBD oil review on our reviews page.
Benefits
Joy Organics offers a superb line of tinctures. All contain broad-spectrum CBD oil. Ideally, this means a balance of minor cannabinoids and terpenes without THC. 
However, the cannabinoid profile appears to be somewhat lacking, despite the product's quality. Fortunately, the robust terpene content helps make up for its shortcomings.
Read on to see a list of how this product's terpenes can help you deal with some common issues or symptoms. And how it compares to some of the cheap products we also tested.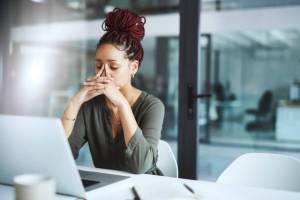 Anxiety
Limonene, caryophyllene and pinene help regulate emotions and help calm feelings of stress, tension, and fear.
Pain
Limonene, caryophyllene, and pinene once again show up on our list, this time as analgesics. Humulene also joins them in this regard.
Additionally, bisabolol provides anti-inflammatory benefits that can also help reduce certain types of pain.
Sleep
Caryophyllene is handy for sleep if you suffer from pain due to an injury or chronic health condition. Nerolidol and pinene are also reliable sleep aids.
What We (Don't) Like
Although they are not the cheapest, there is really not much to dislike about this brand.
Joy Organics Pros
Certified Organic – No pesticides and contaminants
The United States Only – Grown and made in the USA for quality control.
Third-party lab testing – Certificate of Analysis and a Certificate of Quality Assurance confirmed by third-party labs
Absorption Rate – Soft gel capsules have four times the absorption rate, requiring less intake for full effectiveness.
Terpenes –  A impressive variety of terpenes
Consistency – Hemp comes from the same strain and goes through the same extraction process for consistent results with every bottle, salve, or gel.
Pharmaceutical grade – Tight quality controls and consistent manufacturing. They manufacture all their products in a GMP-certified facility that also conforms to FDA guidelines.
Excellent customer service – Free shipping and 30-day money-back guarantee
CBD skincare and beauty products – Although Joy didn't make it on our list of the best CBD oil beauty products, they offer good night and day creams.
No Full-Spectrum option
Joy Organics is rich in terpenes, but it would be great to have a Full-Spectrum option with the legal amount of THC. Their products mostly contain CBD, missing out on the other cannabinoids for the maximum entourage effect.
However, THC is not the best for anxiety. Only in some specific cases, a little THC is beneficial. In most other cases, THC makes anxiety worse. We, of course, considered this in our CBD for anxiety reviews.
What are Terpenes?
Terpenes are what give all plants their flavor and scent. Medically, terpenes play a variety of crucial roles. Some are more useful than others, depending on your condition.
We know that terpenes help give your weed an extra kick, but that's just the tip of the iceberg. Each compound's effects are significant for medical patients, while some of these benefits appeal to recreational users as well.
Upon closer inspection, you'll notice that terpenes all share some common roles, often overlapping. In other cases, you might have one highly stimulating terpene sharing a strain with a more soothing one. How this affects the overall experience depends on a variety of factors, such as THC/CBD levels and other terpenes.
How to use & dosage Joy Organics CBD?
The best way of using Joy Organics CBD is sublingual. Drop the necessary amount of drops under your tongue and keep them there for at least a minute. After that, you can swallow them and drink some water if necessary.
The amount of drops you need to take depends on the purpose. In the health section of this website, we have dozens of articles on conditions. For each condition, the recommended amount of CBD is listed in the dosing section.
How many Joy Organics CBD (1500mg) drops should I take?
1 milliliter contains 20 drops. A 30 ml bottle, therefore, contains 600 drops.
Joy Organics offers tinctures with the following strengths: 250mg, 500mg, 1000mg and 1500mg, all in 30ml bottles. The amount of drops, therefore, differs per dosage. Let's say you would like to take a daily dosage of 25mg – How many CBD drops should you take?
250mg CBD bottle
250mg divided by your daily dosage of 25mg makes: 10 dosages per bottle or 10 dosages per 600 drops.
1 dosage of 25mg is, therefore: 600 divided by 10 equals 60 drops
500mg CBD bottle
500mg divided by your daily dosage of 25mg makes: 20 dosages per bottle or 20 dosages per 600 drops.
1 dosage of 25mg is, therefore: 600 divided by 20 equals 30 drops
1000mg CBD bottle
1000mg divided by your daily dosage of 25mg makes: 40 dosages per bottle or 40 dosages per 600 drops.
1 dosage of 25mg is, therefore: 600 divided by 40 equals 15 drops
1500mg CBD bottle
1500mg divided by your daily dosage of 25mg makes: 60 dosages per bottle or 60 dosages per 600 drops.
1 dosage of 25mg is, therefore: 600 divided by 60 equals 10 drops
What is different about Joy Organics?
Joy Organics stands out because it is a THC-free broad-spectrum CBD oil with a massive amount of terpenes. Terpenes play a significant part in the healthfulness of these oils van products. Besides that, they pay a great deal of attention to product development and quality, with the owner, Joy, personally involved.
Where to Buy
The safest and most affordable way to buy is straight from the manufacturer online. As there can be knock-offs and scams, make sure you get the real deal at the lowest price. Click on the button below to go straight to the official website where you can apply our coupon code discount.
Sources
Sources:
https://www.fda.gov/newsevents/publichealthfocus/ucm484109.htm