Updated on September 15th, 2023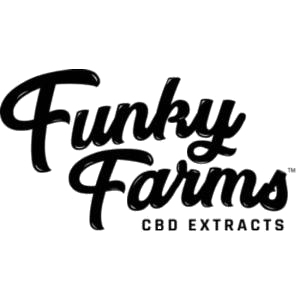 Established in 2017, Funky Farms works out of Boca Raton. They offer a complete line of CBD products to suit the needs of any customer.
One look at their website and items shows Funky Farms' modern aesthetic, highly stylized, and eye-catching. But the company's strengths are more than superficial. They stand behind their products, obtaining their hemp extracts from reliable, regulated sources.
It's clear that Funky Farms values transparency, being completely honest about whether they use full-spectrum, broad-spectrum, or isolate in their items – something many companies lie about. Customers can also access third-party lab test results provided with every batch of products.
We particularly like their CRD vape carts, which are on another level. We had one of the best vape experiences with Funky Farms CRD cartridges.
Their CRD pen was tested as the best CBD disposable vape pen in our grand review.
Funky Farms CBD Product Line
Funky Farms offers a large selection of CBD products.  Their vape juices, cartridges, and CRDs are trendy.
Full-spectrum hemp extract tincture, suspended in medium-chain triglycerides (MCT oil). Three flavor options, Alaskan Ice (mint), Lemon Limon (citrus), and Orange Dream (orange/vanilla).
Soft, chewable gummy cubes infused with isolate containing 10mg of CBD each (5 servings per bag).
Small pods for vaping in a standard 510 threaded e-cigarette ("vape pen").
Funky Farms' Crystal Resistant Distillate (CRD) vape cartridges contain pure broad-spectrum hemp extract, eliminating THC and keeping the other cannabinoids and terpenes intact.
Funky Farms CBD Vape Juice is a full-spectrum CBD-infused e-liquid compatible with any standard e-cigarette tank.
Funky Farms CBD Soft Gel Caps contain full-spectrum CBD oil in discreet, convenient capsules in two concentrations.
Funky Farms CBD Drink Packs are powdered mixtures meant for mixing with water. Made with the best pure CBD oil (isolate), each pack contains 25mg of CBD.
Shipping Locations
Funky Farms ships to all U.S. states, except Massachusetts or Louisiana (due to recent restrictions passed in these locations).
Certificate of Lab Analysis
All of Funky Farms' products undergo third-party lab testing with every batch. Each has a lot-ID and QR code for easy reference. 
Cannabinoid Profile Funky Farms CBD Tinctures
Funky Farms lists full-spectrum hemp extract as the main ingredient in their tinctures and vape products. An examination of the third-party lab tests confirms this.
Although cannabinoid levels will always vary, the lab tests detect trace amounts of other cannabinoids. With tinctures, they test on terpenes as well.
Funky Farms' price point is a great pro and a decisive argument for most of us. But for those looking for even more cannabinoids and terpenes to maximize the entourage effect, it makes sense to look at other brands, like Nanocraft.
Most Funky Farms products are full-spectrum or broad-spectrum.  Gummies are infused with isolated CBD, just like most of the competition.
Cannabinoid Profile Funky Farms CBD Vape Juice
In the e-liquids, a full-spectrum CBD distillate and flavors are suspended in a 50/50 mix of vegetable glycerin (VG) and propylene glycol (PG), identical to nicotine e-juices. Currently, Funky Farms offers four flavors:
Blueberry Gelato (berries and cream)
Peach Tangie (peach and tangerine)
Applejack Pear (apple and pear)
Mango Sherbert (plain mango)
Cannabinoid Profile Funky Farms CBD Cartridges
Vape cartridges are pre-filled with 1ml of liquid, containing 350mg of CBD suspended in MCT oil. These broad-spectrum products are available in:
Chocolate Mint
Lemon Cake
Frosty Watermelon
Gelato flavors
Granddaddy Purple
Besides testing on cannabinoids, you can see below they also test on terpenes. Even the established names in the market don't always do that—Cudos for Funky Farms.
Cannabinoid Profile Funky Farms CRD Cartridges
The CRD cartridges are unflavored, so they have a natural "hempy" taste. They fit any 510 threaded vape pen and contain 600mg of CBD for every 1ml pod. Also available in single-use disposable vape pens containing 0.3 ml of liquid, with 200 mg of CBD.
But why wouldn't you compare this with a top brand with the same price per mg? Please read our reviews of CBD oil to understand where the benchmark is.
Funky Farms CRD carts stand their ground and are our favorite.
Formula
Preliminary studies and mounds of individual testimony point toward CBD as an excellent alternative to help relieve various symptoms and possibly treat certain conditions. Clinical studies already proved CBD's efficacy against severe childhood epilepsy, but early evidence suggests analgesic, neuroprotective, anti-inflammatory, and sedative benefits – among countless others.
Aside from CBD, Funky Farms uses coconut-derived MCT oil and natural flavorings in their tinctures. Rather than using flavorings, Funky Farms adds terpenes to create unique, inherent flavor profiles. The vape cartridges use the same carrier and flavor formulas. It's unclear as to whether or not Funky Farms adds them artificially.
None of Funky Farms CBD Cartridges contain vitamin E acetate – a cutting agent found in illegal THC vape pens responsible for the recent epidemic of lung illnesses across the U.S.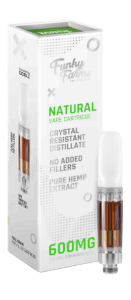 Aside from CBD, third party tests detected the presence of:
THC (less than 0.3%),
CBC
CBN
CBDV
CBG
Terpene profiles show limonene, linalool, caryophyllene, myrcene, pinene, humulene, ocimene, and terpinolene.
Benefits
Pain
CBD is known to help with pain. Additionally, CBDV and caryophyllene are known to have analgesic effects – both of which are present in Funky Farms full-spectrum vape products. Vaping is also the most bioavailable way to consume cannabis, and the results are almost instant.
Focus
Many people use CBD to improve concentration and alertness, but terpenes play a role as well. The only terpene in this product with such properties, however, is pinene. CBD oil for energy and focus should have more focus-enhancing terpenes.
Sleep
The relationship between CBD and sleep is a bit blurry.
Although plenty of people use CBD for sleep, people also use it for alertness. Obviously, the same compound can't have two opposite effects.
Full-spectrum CBD products like the ones at Funky Farms contain several terpenes and cannabinoids known to cause sedation, which could be primarily responsible for helping with sleep. Myrcene and terpinolene are present in these products, and both have sedative properties.
Ingredients
What We (Don't) Like
We're happy to report that Funky Farms has few negatives, but there are some things to point out.
Limited Flavor Options
When browsing the Funky Farms website, we noticed that flavor choices are somewhat limited – especially among non-vape products like:
With just limited flavor choices for the vapes, gummies, and drink packages, it's a huge missed opportunity to add some more variety. I mean, wouldn't it be nice if they had organic Kombucha drinks infused with CBD?
Launch your own CBD hair serum private label or other unique CBD products with our partner's white label program.
Highly Vape-Focused
Like Select CBD, Funky Farms is particularly keen on selling vape products. The cannabinoid profiles are more diverse and robust, with slightly more flavor options. We can't fault them for wanting to cater to a specific audience, but it might alienate customers looking for other products.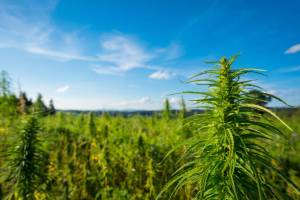 (Possibly) Not Organic
The Funky Farms website doesn't specify whether their hemp is organically grown. At least one of the third-party lab tests showed trace amounts of one pesticide, but the level wasn't nearly high enough to cause concern. Most other tests came back negative across the board.
Even if the hemp is not organically grown, Funky Farms can filter out these toxins during processing.
Clear Packaging
The packaging on the Funky Farms tinctures is eye-catching. However, their use of clear glass bottles is a mistake. Cannabinoids degrade over time when exposed to light.
Placing the tinctures in glass bottles reduces their shelf life. Consumers should always store their tinctures in dark areas, such as cupboards, to avoid light exposure.
Lack of Terpene Profiles
Unfortunately, terpene content is not available in any of the tincture lab tests. However, their CBD cartridges rely on terpenes for their flavors, while the vape liquids use common e-juice flavorings. Nuleaf Naturals sells terpene-rich CBD oil but is therefore pricier.
Few producers offer full spectrum CBD gummies, and Funky is no exception.
No Extraction Method Mentioned
Funky Farms doesn't mention how they obtain their CBD extracts. The industry standard uses a CO2 extraction process, but many manufacturers still use butane or alcohol, which are less desirable.
However, the third-party lab tests show no traces of these and many other potential solvents. Regardless of the method, we know that Funky Farms ultimately provides a clean product and is honest about whether they use full-spectrum, broad-spectrum, or isolates.
How to Use and Dose Funky Farms CBD Tinctures?
It's easy to use and dose Funk Farms CBD tinctures. Simply place one or two drops under the tongue, hold it there for 60 to 90 seconds and swallow. Dose once per day or more as needed.
Are Tinctures Different from Oils?
Yes, tinctures are different from oils. Both are equally effective, but people typically prefer one over the other.
What sets them apart is that tinctures often use alcohol as a solvent (but this isn't always the case). Read more about it in our CBD tincture review.
Are Funky Farms CBD Vape Products Safe?
How Long Does the Funky Farms 1ml Cartridge Last?
A Funky Farms 1ml cartridge lasts for about 300 puffs.
How to Inhale Funky Farms Vape Products?
To inhale Funky Farms vape products, simply place the mouthpiece in your mouth and take a regular breath. If you're already an e-liquid vaper, just use your normal vaping inhalation technique.
Where to Buy
The safest and most affordable way to buy is straight from the manufacturer online. As there can be knock-offs and scams, make sure you get the real deal at the lowest price.
For our CBD coffee review, go to this page.
Click on the button below to go straight to the official website where you can apply our coupon code discount.
Coupon Code Discounts
We managed to negotiate big CBD discounts for our visitors. Enjoy our gifts!
[cp_info_bar id="cp_id_acf73″]– Click here for the Funky Farms 20% OFF code
– Plus many more discount codes inside your inbox, by entering your email address below[/cp_info_bar]
Sources
Sources:
https://www.fda.gov/newsevents/publichealthfocus/ucm484109.htm

https://www.rosintech.com/10-most-common-terpenes/

https://www.zamnesia.com/blog-beyond-cannabinoids-flavonoids-terpenes-terpenoids-of-cannabis-n301

https://www.leafly.ca/news/cannabis-101/terpenes-the-flavors-of-cannabis-aromatherapy

https://www.leafly.ca/news/strains-products/how-to-use-cbd-marijuana-for-sleep