Updated on September 15th, 2023
"Start low and go slow" is the rule to follow, but how do you precisely track your dose?
Unfortunately, the answer requires some number-crunching, but seeking relief shouldn't involve confusing math.
Let our CBD & THC dosage calculator do the magic.
CBD Percentage to Milligrams: How to Calculate CBD Content
Our CBD oil dosage calculator uses CBD percentage and bottle volume (ml) to determine milligrams per milliliter and total CBD content.
Example:
Oil with 5% CBD in a 10 ml bottle: How many milligrams are in 1 milliliter of this CBD oil?
1 milliliter = 1 gram = 1000 milligrams of CBD oil.
5% of 1000 milligrams = 0.05 times 1000 = 50 mg of CBD.
A 10 ml bottle contains: 10 times 50 = 500 mg CBD.
Your oil bottle contains 500 milligrams of CBD.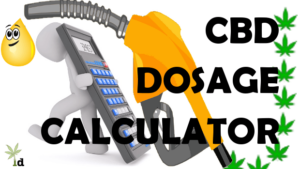 Hemp CBD oil manufacturers often only label their products with percentage, leaving out the milligrams (mg) per bottle. But you can't accurately dose CBD oil without knowing the mg-concentration.
A 60ml bottle with 1,000mg of CBD isn't the same as a 40ml with the same CBD content. So at this point, you can make an educated guess or calculate everything yourself.
Those choices don't work for us, which is why we created a CBD dosage calculator.
Fill out the fields above to see your CBD concentration (or any substance for that matter) and how many drops you need to take.
How Many Milligrams are There in a Drop of CBD oil?
The concentration in a drop of CBD oil depends on the CBD product you use.
To avoid miscalculating your daily CBD dosage, we created a CBD dosage calculator for two functions:
Convert your CBD oil percentage into milligrams
Provide the specific number of drops you need for a certain dose of CBD
If your package or CBD bottle indicates the amount of CBD in milligrams, you only need the iDWeeds Drops Calculator.
Not every vendor follows the same labeling practices. Consequently, some products will have CBD expressed in either milligrams or percentages.
Expressing CBD oil concentration in milligrams offers more precision to find your optimal dosage, for example, CBDistillery 5000mg tincture. If your product is labeled by percentage, use the iDWeeds % to mg Calculator to quickly convert the incomplete information into a useful, exact measurement.
Once you know the exact content, use our Drops Calculator to determine how much CBD oil you need for each dose. You can also use the calculator for cannabis oil.
The Importance of Finding Your Optimal CBD Dosage
A lot of people give up on CBD because it doesn't appear to work. But dosing CBD is a delicate balancing act. You may think CBD behaves like THC – increased dosage leads to stronger effects.
However, CBD doesn't behave like that. One study[1] looked at the anxiety-reducing effects of CBD in adults at 150, 300, and 600mg, along with a placebo group.
Participants received a dose prior to performing a speech, while the team measured the subjects' physical stress responses, such as blood pressure.
The researchers noted that those who took the 300mg dose experienced less anxiety than their counterparts.
But the most notable finding is that those in the 150 and 600mg groups showed "no significant differences" in anxiety relief during the experiment.
You need to fall into a peak dose range for maximum effect – or any effect. If you don't start at the lowest dose and incrementally work your way up, it's likely you'll overshoot the "sweet spot" and be disappointed with the results.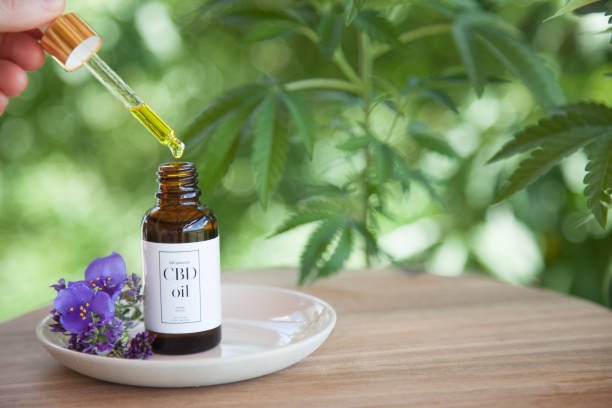 Factors that Influence Your CBD Dosage
To date, we don't have enough information for a precise CBD dosage regimen, as not all products are alike. So without a universal formula for CBD oil and its derivatives, "start low and go slow" – a carefully-controlled trial-and-error process – is the best method to discover your appropriate CBD dose.
Your starting and therapeutic doses depend on several factors, including:
Weight
CBD oil type (full-spectrum, broad-spectrum, or isolate)
Symptoms/condition
Genetics
Metabolism
Medication
Biological sex (male or female)
How Much CBD Should I Take?
If you search for "the best starting CBD dose," you'll find multiple results with multiple answers. This is partially due to our reliance on anecdotal evidence and bits of information we can glean from studies. The Food and Drug Administration is also rather stubborn, while federal restrictions continue to hamstring large-scale research.
Bell Curve Effect
Studies show that CBD is only effective in a narrow dose range.
Whereas no beneficial effects are achieved at either lower or higher doses.
The sweet spot (top of the bell curve) is different per condition, severity, intake method, individual, situation, etc.
Another problem is that CBD works on a bell curve, meaning too much CBD is as ineffective as too little. For instance, a 2015 study on CBD oil for anxiety found that 100mg/kg of CBD provided no benefits to patients, while just 10mg/kg did help.
Understanding CBD Dosage
Combine this balance issue with our lack of understanding of CBD dosage and the varying recommended milligrams for a given condition, and it's clear why people are confused.
Several conditions received some level of scientific study, although many are small-scale. Depending on the research health issue, patients found relief from as little as five milligrams, up to 1,500mg.
Getting Started with CBD Oil
Once you understand your product's CBD content (potentially with the help of our calculator), it's time for your first dose.
Before you start, keep in mind that CBD may need time to build up in your system – although this isn't the case for everyone. That's why, again, it's vital to "start low and go slow".
It would be best if you take as little CBD as possible. This approach slowly introduces CBD into your system, gradually letting you creep up to the right CBD oil dose. Once your body gets used to cannabidiol, you'll eventually notice therapeutic benefits and can finally maintain that level of intake.
Some people prefer to fast-track and increase the dose every day or two, or in larger amounts. While this isn't necessarily "wrong" (again, different bodies, different results), it might not be the best approach for you. Slow and steady is the most reliable way to reach the proper dose, even if it takes weeks or months.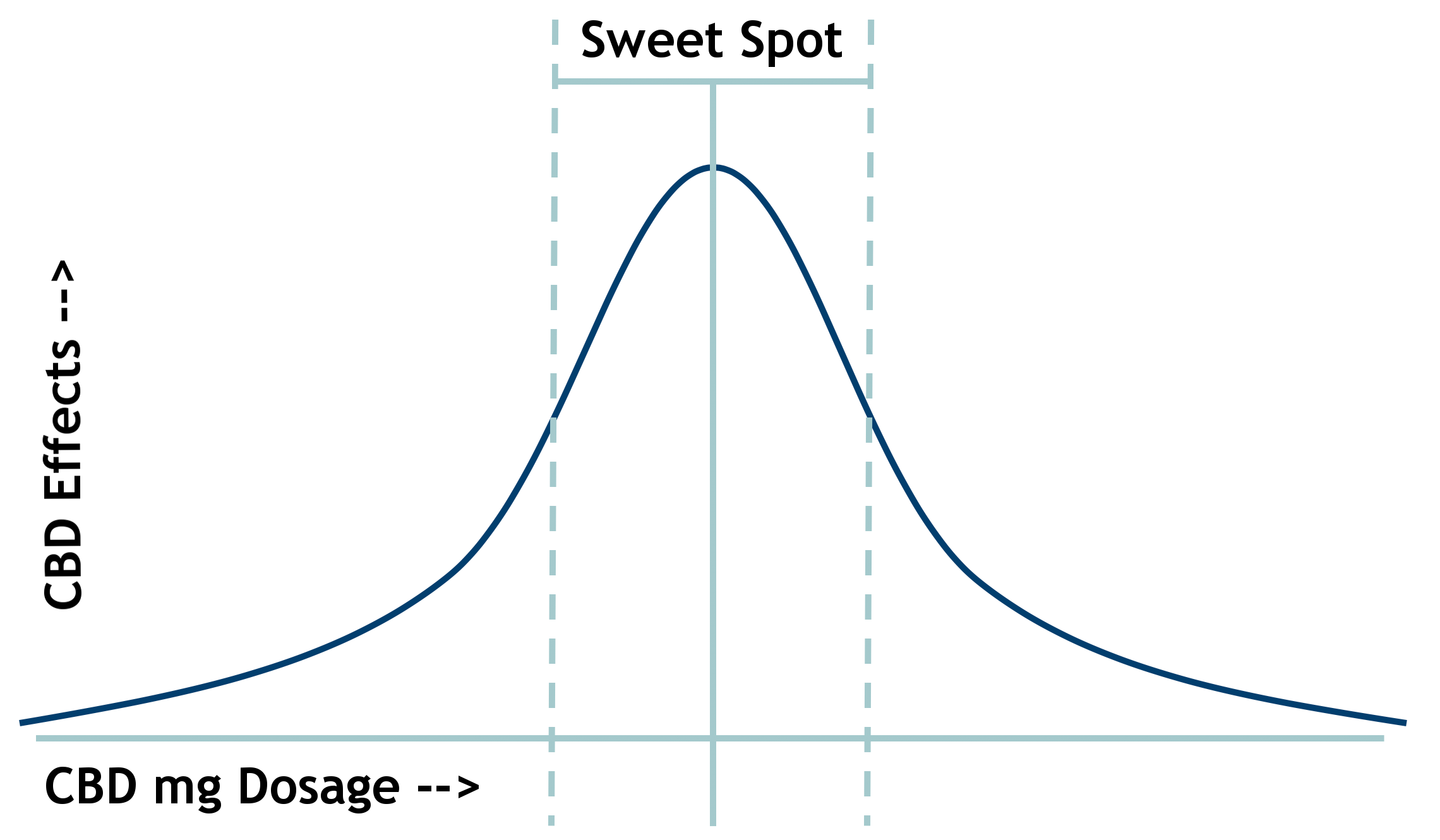 Given that some conditions require hundreds of milligrams [2] before they reportedly respond to CBD, reaching the right level may take a lot of time. But remember, it's better to take things slow and ultimately benefit than start too high and have a negative or disappointing experience.
Begin with just 2.5 to 5mg
Wait 30 minutes to (rarely) four hours for the results (if any)
Maintain this dose for one week, even if it doesn't help
Gradually increase the CBD dose by 5 to 10mg every week
Continue the above steps until you notice an improvement
General Health
If you use CBD extracts for nutrition or preventative health, your body has more margin for error. Without symptoms to resolve, you only need enough CBD to help you maintain homeostasis (internal balance) and potentially keep future health issues at bay.
Once more, the optimal dosage goal post moves based on the list of factors we covered earlier. Start with 2.5 to 5mg, as usual. Keep going until you notice positive changes, such as more energy, stronger focus, better sleep, improved digestion, etc.
Most health-conscious users find the right dosage of CBD at around 15 to 20mg. But this number could be lower or higher depending on the individual.
If you want to learn more about CBD's potential health advantages, check out our article, CBDs health benefits, for some handy information on using CBD.
Are you a vendor looking to spread the benefits of CBD or a budding entrepreneur who wants to join the hemp CBD oil products industry? Our article on where to buy the best CBD oil wholesale products will point you in the right direction.
Conditions
The dosage levels for different conditions, based on anecdotal reports, are mentioned in the health articles on our site.
CBD oil for Weight loss
CBD for Crohn's disease
CBD for Lyme
CBD for Diabetes
Can I overdose on CBD?
No, you can't overdose on CBD. In 2017, the World Health Organization (WHO) declared CBD was safe to consume, with no potential for addiction or abuse.
Scientific studies[10] have confirmed that doses of up to 1500 mg/day have been well-tolerated in humans with few or no side effects.
Oral CBD uses the same liver enzymes as many prescription medications. Consequently, taking CBD oil could reduce your medication's effectiveness, increase side effects, or dilute the effects of CBD.
CBD has no harmful side effects, but it's essential to see a doctor before using CBD, especially if you take medication.
Start Low and Go Slow
In certain rare cases, hemp can trigger your anxiety. People prone to psychosis, epilepsy, and fear should avoid THC and choose broad spectrum hemp.
If you are using full spectrum hemp with THC, first let your body get used to micro-doses. After a week of daily 2mg doses without mental side-effects, start with the regular dosage chart.
CBD Dosage Chart Estimator as Per Ailment
There are some exceptions, but the vast majority of CBD studies to date are limited to reviews and animal studies. But based on those findings and a slew of anecdotes, there's a clear difference in dosage requirements for different health issues.
Keep in mind that, regardless of the recommended range, it's important to always start with as little CBD as possible and work your way up to the right dose. You may find that a smaller amount is all you need, so don't jump ahead.

CBD Dosage for Depression
Depression is a crippling condition that can bring your mental health to a grinding halt. Unfortunately, antidepressant medications don't have the best records for efficacy or side effects.
Fortunately, preliminary evidence fits the many anecdotes about CBD potentially alleviating depression.
One study on mice[3] found that not only did CBD produce antidepressant effects, but those benefits materialized within about 30 minutes and lasted for an extended period. CBD's rapid onset is much faster than the delayed effect from prescription medication.
Unfortunately, the study's dosage findings are rather wide, ranging from 7 to 30mg/kg. At this ratio, an 80kg (180 lbs) adult would need 560 to 2,400mg of CBD per day. We dedicated an article where you can find out more about CBD for depression.
CBD Dosage for Anxiety
A huge portion of regular CBD consumers cite anxiety as one of the health issues they cope with. While the benefits of CBD here received research, differences in methodology (some of which included adding THC) provided us with a dosage estimate.
A review of several different publications[4] reveals a CBD oil dosage range of 300 to 600mg for anxiety.
However, one non-clinical study[5] reveals 79.2% of the 47 anxiety patients reported improvement in the first month. In this case, the starting dose was merely 25mg, increasing incrementally to 50 and 75 if symptoms persisted. Find out more about the CBD dosage for anxiety.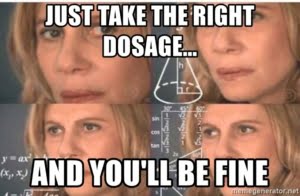 CBD Dosage for Sleep
Lack of quality sleep can be a symptom or a single issue. Regardless, human studies into CBD show a shocking amount of efficacy at an incredibly low dose.
The study above concluded that CBD has a general calming effect on the nervous system, which explains its effects on conditions like anxiety.
Sleep participants (25 in total) took the same dose as the aforementioned anxiety participants. In this case, 66.7% of the 25 individuals said their sleep improved in the first 30 days. Learn more about the CBD dosage for sleep.
CBD Dosage for Pain
Pain is a broad and tricky issue to treat, as it varies in severity, type, and cause – to name a few. But given the risks associated with prescription pain medication, patients continue flocking to CBD as an alternative.
Surprisingly, reliable clinical trials on CBD and pain management are limited, with one notable study[6] on cancer-related pain providing our best estimate.
Researchers found – perhaps unsurprisingly – that effective doses ranged from 50 to 600mg. Whether the same dosage applies to all pain cases remains to be seen. However, this shows how difficult it is to pinpoint the right amount of CBD dosage for pain.
CBD Dosage for Pets
Studies on pets and CBD are non-existent, but pet experts apply the same methodology to dosing animals as we do for lab mice and humans.
Again, it's best to start with as little as possible and observe carefully for any behavioral or physical changes – positive or negative.
With the exception of some large breeds, most dogs weigh less than the average human, so the dosing of CBD oil for dogs, based on weight will be much lower. Guidelines vary, but some sources recommend incremental dosing every two pounds. This scales to 0.1, 0.25, or 0.5mg for mild, moderate, and severe symptoms respectively.
If you're unsure how many drops you need to achieve those doses, our CBD Dosage Drops Calculator provides all the information you need. Read more on CBD dosage for pets.
CBD Calculator for Edibles
Our CBD calculator is designed for oils and tinctures, so it won't be of much use for CBD-infused foods. Fortunately, many edibles, like gummies, chocolates, and chewable tablets are individually dosed. If your edibles dosage needs are very precise, opt for products like these.
How long does it take for CBD to work?
The time it takes for CBD to work depends on many factors. We're all different and react differently to things like prescription medication and supplements.
The CBD's serving size mainly influences the strength of its effects.
It takes anywhere from 30 minutes to four hours for edible cannabinoids like CBD oil to work – although four hours is a worst-case scenario. Most consumers report effects within one to two hours.
But while ingestible cannabis takes more time to work, it also lasts longer than any other dosage option. The nature of your condition will, therefore, dictate whether CBD oil is right for you. If you decide to use edible CBD, you'll need to consistently consume the same dose to maintain CBD oil's therapeutic effects.
Speed-up CBD's Effects
CBD's metabolism timeframe is universal, meaning it'll still take at least 30 minutes before the extract affects you. Taking larger amounts won't expedite the process and might reduce or eliminate the CBD's effectiveness, thanks to the bell curve issue we covered before.
If you want to speed things up, take your CBD oil sublingually. Hold the mix under your tongue for 60 to 90 seconds. The inside of your mouth absorbs some of the CBD directly into the bloodstream.
By Consumption Method
The CBD consumption method determines how soon you'll feel the effects of cannabidiol.
Inhaled CBD, such as vaping and dry herb, is the fastest choice for quick symptom relief. However, it also provides the shortest duration of effects. Vaping using vape pens, cartridges, or e-liquid/CBD drip is arguably the most popular.
However, hemp CBD flowers continue to pick up momentum among those using CBD.
Unfortunately, it's impossible to tell exactly how many milligrams of CBD (or anything else) are inside each puff. Inhalation isn't the way to get a precise dose of CBD.

By Precise CBD Dosing
Cannabidiol edibles, like CBD oil, snacks, and other ingestible CBD products, offer the most precise CBD dosing, although some are less accurate than others when it comes to serving size. There are also limitations on the amount of CBD some products can hold compared to others.
For instance, water-based drinks can't contain much CBD compared to full-spectrum or broad-spectrum ingestible extracts.
While these products' effects last the longest, they also take longer to kick in than any other cannabis product.
Knowing the exact milligrams (mg) of CBD per drop tells you the oil dosage you need. If your CBD oil's concentration is expressed in percentage, our CBD oil dosage calculator easily converts that into quantifiable units (milligrams).
Topicals are the third major category of CBD products. Unlike edibles and smoking, topicals are meant exclusively for external use. These include lotions, balms, shampoos, and muscle rubs.
Like with smoking, dosage is pretty much impossible to control. You can't measure the exact amount of topical in each application.
The good news is that you find the right dose pretty quickly, as the effects are virtually instant for symptoms like pain inflammation.
Topicals also won't have any psychoactive or intoxicating effects, since the cannabinoids don't penetrate into the bloodstream. These products go straight to the source, sacrificing mental effects for precision relief.
Sublingual, Oral, and Vape Bioavailability
Don't let the labels fool you. The dosages advertised on each bottle, snack, vape, dry herb, concentrate – every package you can imagine – aren't remotely close to what your body uses.
Bioavailability refers to what's left of the substance (CBD in this case) for your body to use after being processed.
Despite CBD being the same in any form, the way your body metabolizes it determines its bioavailability. It's essential that you understand this when dosing CBD.
Vaping and Smoking
Not only is inhalation the most efficient CBD product option for symptom relief, it also takes first place for bioavailability. Measurements so far show inhaled CBD is up to 56% bioavailable.
How Much CBD Should I Vape?
Due to the substantial bioavailability difference between ingestible CBD and vaping, you won't need as much CBD to achieve the same effect.
Unfortunately, vaping is nearly impossible to accurately dose, since people inhale different amounts depending on their technique and lung size.
The good news is that, although difficult to dose, vaping sends the CBD to your bloodstream almost instantly, allowing you to simply stop consuming once you feel its effects.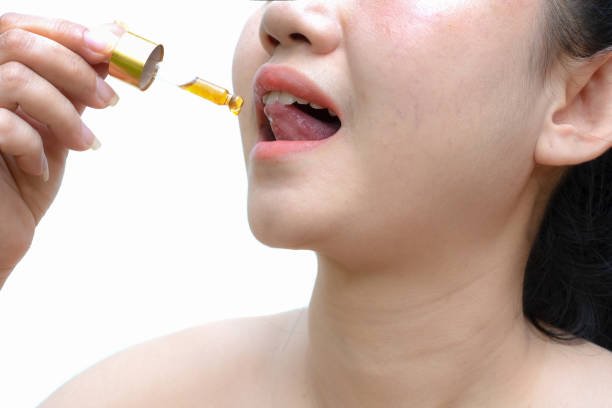 Oral and Sublingual
Taking cannabidiol through your digestive system, like edibles, CBD pills, and CBD water, offers the lowest bioavailability, at 10%-15%.
Sublingual tinctures are an exception. Unlike oil, tinctures are alcohol-based, faster-acting and more bioavailable, at up to 35%.
You might feel the effects of a tincture in about 30 minutes or less, with a slightly lower duration range 4 to 6 hours (compared to the eight hour maximum with other edibles).
Never take CBD oil or tincture on an empty stomach. Some conclude that CBD will hit faster if there's nothing else to digest (similar to alcohol). However, the opposite is true.
Sneaking CBD in among your other snacks or meals ensures that you'll thoroughly digest the cannabinoid, maximizing its bioavailability. Tincture is particularly good for mixing with food, as it's flavorless, but also comes in various flavor options to sweeten or improve the taste of your favorite smoothies, snacks, or meals.
How Many Drops of CBD Oil Under Your Tongue?
Tinctures and oils are common options for people seeking relief from a variety of conditions. A major advantage, of course, is the ability to accurately dose with a dropper or syringe.
The number of drops you need varies based on CBD concentration, necessary dosage, and dropper size (typically 1ml).
We covered the math earlier, but you'll find the answer faster using our CBD Drops Calculator.
Topical
Topical cannabinoid bioavailability through the skin is still unknown. But one study [8] administered CBD nasally and discovered a bioavailability rate of 36 to 42%.
Bioavailability also depends on the topical's formula and ingredients, with the same study discovering a decrease in bioavailability when polyethylene glycol (PEG) was reduced.
| Consumption Method | Body Absobtion | Effect Lead Time | Effect Time |
| --- | --- | --- | --- |
| Vaping / Smoking | Best 34%-46% (up to 56%) | Few minutes | Couple of hours |
| Topical | Intermediate ~36-42% | Couple of minutes | Few hours |
| Sublingual | Intermediate ~35% | 2-30 minutes | 4-6 hours |
| Oral | Worst 10-15% | 1 hour | 4 hours |
Does Weight Matter in CBD Dosage Calculations?
Studies on ingested CBD measure their dosing in milligrams per kilogram, making body weight integral to figuring out the right CBD amount. This is particularly important for first-time users.
But, like the diverse products, studies varied when it came to body weight and size. For instance, the CBD amount for severe seizures in children (the only use evaluated by the Food and Drug Administration) is substantially higher than the recommendations for things like back pain.
Is this an indication of how CBD doses change based on weight, or simply that the types of symptoms are also a determining factor? At this time, we can only speculate.
How Does Calculating the CBD Oil Dosage Based on Body Weight Work?
The short answer here is that we just don't know. It would take one huge CBD dosage chart to display the bodyweight range for every condition. Some respond well with just a small dose, while others require a massive amount of CBD oil to treat.
Animal and occasional human studies start by guessing the best dose per kilogram. Without several controlled, peer-reviewed trials, there's no way we'll be able to calculate an appropriate CBD dosage.
Starting with a minimal dose and gradually increasing it over time is the only way you'll know your appropriate amount of CBD. Only through research with CBD and each condition can we actually create reliable and consistent dosage recommendations.
CBD Microdosing
Microdosing (a.k.a. "self-titration") is the process of taking very low doses on a regular schedule. The doses you take likely won't provide much therapeutic effect, but that's not the purpose.
Microdosing is a way for your body to "get its feet wet" so to speak, before finding the right dose. In other words, it's a fancy term for "start low and go slow."
This strategy isn't meant for long-term use. It's a way for your body to get accustomed to CBD. As you gradually increase the oil amount, you come closer to the ideal dose of CBD.

How to Microdose CBD Oil
To microdose CBD oil, you need to take several regular, small doses during the day. The amount and frequency depend on your therapeutic needs and the schedule that works for you.
Health benefits of the CBD Dosage Calculator
People need to know the proper CBD dosage for pain or chronic pain- common issues for CBD users. CBD hemp for anxiety is also a smart option since THC can make anxiety worse if you don't dose it very precisely.
Depression is another condition that requires balance. THC can improve mood, but some strains do the opposite. It's better (and more accessible) to buy full-spectrum or broad-spectrum hemp CBD oil.
Our point is that with so many symptoms and products, nailing the right oil dosage is like throwing darts at a bee.
Lack of Research
We also lack enough CBD dosing research to provide specific guidelines. It's your mission to figure out your ideal dose.
Again, "start low and go slow" is the best way to discover your ideal CBD amount– we can't emphasize this enough.
Once you find your sweet spot, it'll be easy to stick with that dose if you use one type of product, like CBD oil. However, if you want to try hemp gummies, chocolate, or other CBD edibles, you need to correctly calculate your oil dosage (milliliters or percentages) into milligrams to help measure a proper dose of CBD.
Use our CBD Dosage Calculator to accurately determine how much CBD you need to consume while precisely tracking your progress. Please look at our fake CBD checklist to avoid scams.
The Bottom Line
The CBD dosage calculator is an essential tool if you want to know your product's CBD per milliliter or bottle. That dosage information can easily make the difference between a successful CBD oil experiment or a total disappointment.
Tracking those measurements as you gradually increase your CBD oil dose will help you estimate the target amount of oil needed for your condition. Check out here where you can buy cheap CO2 extracted CBD oil.
Your starting dose and guidelines vary. Whether you're addressing issues like sleep, arthritis, back pain, neuropathic pain, fatigue, insomnia, nausea, migraine pain, or any other issues, you need the most accurate CBD doses possible.
How do I calculate how much CBD I need?
To calculate how much CBD you need, you have to figure out your oil's total CBD content (milligrams), then use that information to calculate the CBD in every milliliter. See the example below:
Example Calculations: 
Your oil contains 10% CBD in a 20-milliliter bottle. How many milligrams are in every milliliter of oil?
 Step 1: 1 milliliter = 1 gram = 1000 millligrams
 Step 2: 10% of 1000 milligrams (1000 x 0.10) is 100 milligrams per gram (mg/g).
 Step 3:  100 milligrams per gram x 20 milliliters is 2000 milligrams
 Step 4: 2000 milligrams divided by 20 milliliters is 100 milligrams.
Total: 20 milliliters of CBD oil at 10% CBD contains 2000mg per bottle, with 100 milligrams in every milliliter of oil.
Do you swallow CBD oil?
Yes, you swallow CBD oil – but some CBD oils aren't meant for oral use. Instead, users consume them through vaping, while some products can do both. Check your vendor's label for information.
How do you determine the strength of a tincture?
You determine the strength of a tincture by its percentage or total content in milligrams compared to full volume (milliliters). The iDWeeds CBD Dosage Calculator section easily does this for you in seconds.
Can you take too much CBD?
Yes, you can take too much CBD, but it's not dangerous. If you do take too much, the most likely consequence is that the CBD will stop working. Studies found too much CBD is as ineffective as too little.
The maximum CBD oil dosage varies from one symptom to another.
How do I Know How Many Milligrams are in One Drop of CBD Oil?
The amount of CBD per drop varies depending on your CBD oil's concentration and the dropper's size. One milliliter is the standard dropper volume for most vendors.
You can use our CBD Dosage Calculator to figure out your oil's concentration per milliliter.
Sources
https://www.fda.gov/newsevents/publichealthfocus/ucm484109.htm
https://cannabismd.com/dosage-calculator/
https://www.ncbi.nlm.nih.gov/pmc/articles/PMC3763649/
https://www.leafly.com/news/health/whats-the-right-dose-of-cbd
https://cbdoilreview.org/cbd-cannabidiol/cbd-dosage/
https://www.cancer.org/treatment/treatments-and-side-effects/complementary-and-alternative-medicine/marijuana-and-cancer.html
https://www.ncbi.nlm.nih.gov/pubmed/22129319
https://www.huffingtonpost.com/entry/marijuana-lethal-dose_us_58f4ec07e4b0b9e9848d6297
https://thehempoilbenefits.com/how-long-does-cbd-take-to-work
https://www.who.int/medicines/access/controlled-substances/5.2_CBD.pdf
https://www.ncbi.nlm.nih.gov/pmc/articles/PMC4604171/
https://www.medicalnewstoday.com/articles/327518#research
https://link.springer.com/article/10.1007/s12035-018-1143-4
https://www.ncbi.nlm.nih.gov/pmc/articles/PMC4604171/
https://www.ncbi.nlm.nih.gov/pmc/articles/PMC6326553/
https://bmcpalliatcare.biomedcentral.com/articles/10.1186/s12904-019-0494-6
https://cbd-oil-canada.ca/cbd-oil-dosage-for-dogs/
https://pubmed.ncbi.nlm.nih.gov/30328956/
https://www.leafly.com/news/health/whats-the-right-dose-of-cbd