Updated on January 4th, 2022

In this CBD Drip review, we examine their most popular products. CBDDrip is an American company based in California. They are one of the oldest and largest CBD retailers on the market, which in 2019 got rebranded as EcoSciences Inc.
Their products are all 100% organic and full-spectrum with a perfect cannabinoid profile. The cannabinoids that add to the entourage effect besides CBD are CBC, CBG, CBDv, THC, CBDa, and CBN weed.
Although they started with only vape liquids, with the famous CBD Drip Gold, Platinum, and Onyx names that quickly became a national hit, they also sell CBD oil, capsules, and drinks.
It's wise first to look around and base your CBD purchase on fact-based, lab-tested CBD (cannabidiol) reviews. iDWeeds informs you about the pros and cons of the top CBD retailers. This way, you can make an educated decision.
iDWeeds does NOT sell CBD (Cannabis) merchandise. We compare products from trusted brands based on potency, value, and consumer satisfaction. As CBD demand creates a flood of shady scam sites, our mission is to prevent dissatisfaction and keep you from consuming a low-quality, contaminated product.
When you order from one of these links, we may receive some compensation. Nonetheless, our reviews are honest, fact-based, and verifiable, thanks to our transparent testing procedure. See our full notice.
CBD Drip Product Line
EcoSciences offers a wide range of full-spectrum, non artificial, naturally flavored product line.
The Full Spectrum Hemp Extract CBD rich capsules are offered in travel-ready sealed containers for your on-the-go lifestyle. They come in different package sizes.
Two different choices of CBD Drinks: Hemp Energy, and Hemp Relax.
Several sublingual CBD products, like Rix Mix, are available in three different concentrations and four different EcoDrops. The most potent product is Rix Mix 1500. All CBD oils are full-spectrum.
Three different vape additives: Gold, Platinum, and Onyx as well as bulk concentrate.
Shipping Locations
CBD Drip ships also outside the US to Australia, British Virgin Islands, Canada, France, Greece, Ireland, Japan, New Zealand, Northern Ireland, Northern Mariana Islands, Portugal, Romania, Scotland, United Kingdom, and the US Virgin Islands.
It's best to order directly through their website and apply our coupon code discount. There are a lot of resellers on the internet that otherwise could come in between and rack up the price or outright scam you.
Certificate of Lab Analysis
All CBD Drip products are quality tested by an independent third party lab to ensure you get the best product possible. Certificate of Analysis is available on their homepage.
Click on a product that suits your needs to go to the order page.
Cannabinoid Profile CBD Drip RixMix
CBD Drip sells its RixMix CBD tinctures in three concentrations, 500, 750, and 1500 mg CBD per bottle. The Cannabinoid Profile of the full spectrum CBD vape oils is very versatile.
Besides CBD, there are six other cannabinoids present and terpenes and natural minerals for extra health benefits.
Compared to products like Select CBD oil, which are isolated CBD, this is quite good. Lab tests ensure they maintain their high standards of purity and concentration, ensuring customers get high-quality and effective products.
We couldn't post a terpene profile, as CBD drip doesn't test on terpenes. But they probably infuse their products with terpenes; at least they indicate their products are terpene-rich. For nano-enhanced hemp oil reviews, follow the link.
Personal Experience ECODRIP Onyx & Platinum
ECODRIP Onyx, Platinum & Gold are all PG/VG CBD vape additives with varying potencies. Their ratio blend of PG/VG is propriety, thus secret. I vaped them with a Hermes 3 pen, and the hit is smooth – not harsh on the throat as with high PG CBD vape juices.
The taste is natural and pleasant, as there are no artificial flavorings added, unlike most PG juices. This makes it great for mixing with your favorite e-liquid. Cloud chasers should look elsewhere, as this is a VG dominant vape additive.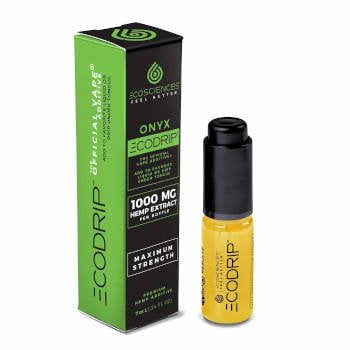 I can't say much about the effect on me. There is only 160mg CBD in their strongest Onyx 7ml offering. Do not get fooled by the 1000mg hemp extract label. If you are looking for high concentrated oils, check out our Avid Hemp CBD oil reviews.
Their RIXMIX 500 offers 500-600mg CBD in 10ml but is PG only. Personally, I prefer a balanced mix of PG/VG to prevent harsh hits on the throat.
They advertise ECODRIP as suitable for sublingual use. I do not recommend this, as VG tastes way too bittersweet under my tongue for my taste. Check out some of their non-PG/VG tinctures if you plan on doing so.
What We (Don't) Like
Overall, CBD Drip (EcoSciences) has a good and diverse line of full-spectrum products. But we recommend comparing brands, like Ecosciences vs CBDistillery vs Lazarus. There are many good CBD brands each with its own pros and cons.
Misleading Labels
The RIX MIX label states 9000mg hemp extract and we see this trend with all their products. The product contains only 1500mg CBD, so the label is misleading.
Not Tested for Terpenes
CBD Drip hasn't been tested for terpenes while they promote it as terpene-rich. Instead of investing in this test, they have decided to overlook it.
What are the Advantages of a CBD Drip Account?
When you open a personal account on their website you can check your order status anytime by clicking on "My Account". You can trace your shipping and view all information regarding your order.
What Guarantees does CBD Drip offer?
Any retailer that stands behind their products offers a Money Back Guarantee. CBD Drip is such a company and offer you a 30-day limit to return your shipment if you are not satisfied. So, when you buy their product, you have zero risk.
If there are any defects in material or workmanship of their product from one year from the original date of purchase, they will gladly send you a new product.
How to Use CBD Drip?
Depends on the product you are using. If it's a vape liquid containing PG/VG, shake well and fill up your vape tank. Inhale for 2-3 seconds and exhale slowly.
Can You Put CBD Drip Under Your Tongue?
Yes, you can! CBD Drip can be used under the tongue but keep in mind the taste might be very sweet due to VG. Drop the necessary amount of drops under your tongue and keep them there for at least a minute. After that, swallow and drink some water if you like.
Does CBD Drip Get You High?
If you follow the recommend dosage for your CBD Drip, it will not get you high.
How Many Drops Should I Use?
The amount of drops you need to take depends on the purpose. In the health section of this website, we have dozens of articles on conditions.
Where to Buy
The safest and most affordable way to buy is straight from the manufacturer online. As there can be knock-offs and scams, make sure you get the real deal at the lowest price.
Sources
https://www.fda.gov/newsevents/publichealthfocus/ucm484109.htm
https://www.ncbi.nlm.nih.gov/pmc/articles/PMC3629815/
https://www.medicalnewstoday.com/articles/179211.php
https://www.ncbi.nlm.nih.gov/pmc/articles/PMC3158445/
https://www.sciencedaily.com/releases/2005/01/050111123706.htm
https://health.usnews.com/wellness/fitness/articles/2018-05-11/can-cbd-products-improve-your-fitness-results
https://www.booksforbetterliving.com/cbd-oil-workouts-benefits/