Updated on August 7th, 2023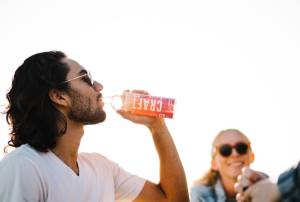 You'll get improved CBD effects with nano-infused CBD water.
The nano-infusion of CBD results in a much higher absorption rate by our bodies, enhancing CBD's natural health benefits. With traditional consumption, like CBD baking, a great portion of the CBD is lost during the process due to the high temperatures.
The way that CBD is consumed is of key importance, and water-soluble CBD is a good choice.
What is CBD water?
CBD water is clean mineral water infused with CBD, a health stimulating compound of cannabis or hemp. Lately, there has been an increasing interest and attention for the forgotten powers of cannabis that our ancestors used for many decades.
In particular, cannabidiol is gaining increasing amounts of attention and acceptance. This is not surprising when the extensive list of CBD health benefits is considered.
Much like CBD gummy worms, CBD water is one of the trendy products that have the potential to go viral. Both Gummies and water are ideal ways to give CBD to your child. But what are the best CBD gummies for kids?
We continuously review new CBD brands and see an increase in CBD drinks, like hemp infused coffee. We include a coupon code in almost every review, and when you subscribe to our newsletter, you'll get the best deals and many other coupons.
Water Soluble CBD – a Healthy Trend
Cannabidiol (CBD) boosts our body's endocannabinoids, which naturally balance our health. Because cannabidiol is an organic and completely natural product, it interacts with our body's neuroreceptors in the same gentle way that our own endocannabinoids do.
How does cannabidiol make you feel? CBD has a calming effect but does not make you drowsy and doesn't cause any intoxication. It restores your mood and improves your body's resistance to mood swings, anxiety, and pain.
Our comparison tests in the brand catalog reveal top water-soluble hemp for pain and anxiety.
Wholesale CBD
Although our partner program doesn't carry water-soluble CBD wholesale products (at least not yet), it has one of the industry's largest wholesale product lines.
Dosing CBD Water
The amount of CBD should be indicated on the label of the water bottles. For example, 15 mg CBD in a 0.5-liter bottle.
The average consumption of CBD is 20 to 30 mg daily, depending on the individual and the situation. CBD is not a medicine and has no side effects. There's no need for strict hemp oil dosages. Isn't that easy?
Benefits of Hemp Water
Perhaps health awareness is rising due to the internet and social media, especially amongst the latest generation.
Drinking healthy spring water with natural minerals is becoming a trend, steadily displacing the chemical soda drinks that have dominated the market for decades. Now it looks like combining healthy mineral water with a natural health booster is becoming the next trend.
How is CBD water made?
Making CBD water is significantly different from making, for example, CBD oil, wax, and even crystals or isolate. While these CBD products are just a distillation of full-spectrum industrial hemp with a high CBD content, manufacturers must technologically process CBD water.
For example, if you mix hemp isolate (pure CBD) with water, you would most likely get an unattractive milk-like substance. For CBD to be completely dissolved in water, it needs to be broken down into nanoparticles, which can then be infused into the mineral water using nanotechnology.
It is, therefore, more complicated and expensive to produce CBD water vs., for example, the best full extract CBD oil for sale.
The verdict on CBD water
CBD water is not becoming a trend so quickly just because of hype. Mineral water is a trendy and healthy beverage itself, and due to the nano-infusion, CBD is absorbed by our body much better. We definitely wouldn't be surprised if CBD water is the next big trend.
You don't have to give your dog CBD water. Most dog owners add CBD for dogs to their drinking water or food and report heart-warming success stories.
We recommend to avoid cheap products and go for the cheapest amongst quality-proven and reviewed products.
Sources
Sources:
https://www.fda.gov/newsevents/publichealthfocus/ucm484109.htm
https://www.marijuanabreak.com/cbd-water
https://janest.com/article/2017/08/15/drinking-cbd-water/
https://medium.com/cbd-origin/whats-the-best-cbd-dosage-81ec4f95503b
https://www.prnewswire.com/news-releases/growing-awareness-of-cbd-oil-benefits-will-drive-the-market-forward-886302518.html
https://www.projectcbd.org/node/1029/
https://www.popsugar.com/fitness/What-CBD-Water-44765421