Updated on September 15th, 2023
Pure Spectrum is a Colorado-based company. They have stringent quality standards.
They strive to improve the quality of life of their customers. Pure Spectrum specializes in isolated CBD; they do not have full-spectrum products.
The name Pure Spectrum is an indication of the pure CBD oil products they offer. They control every step of production.
Pure Spectrum ships to all US and EU territories.
Smart people make smart choices. Also, purchasing choices are based on CBD oil reviews.
Pure Spectrum Product Line
Pure Spectrum specializes in isolated CBD.
They offer four strengths (250 mg, 500 mg, 1,250 mg and 2,500 mg) of CBD oil tincture. The 250 mg and 500 mg bottles are available in 1-, 2-, 3-, 5- and 10-packs
99% isolated CBD.
Joint Support capsules enriched with hemp for dogs and cats.
Hemp Tincture for Large, Medium, and Small dogs and cats.
Pure Spectrum Isolate and full-spectrum lotions, relaxing salve, and invigorating salve.
Pure Spectrum T-shirts, blender bottles, and other accessories.
Shipping Locations
Pure Spectrum ships worldwide. It's best to order directly through their website and apply our coupon code discount. There are a lot of resellers on the internet, that otherwise could come in between and rack up the price.
In addition, you risk getting fake products when ordering from others. iDWeeds independently reviews directly from the source.
Certificate of Lab Analysis
All products undergo third-party lab testing with every batch. Each is assigned a lot-ID and QR code for easy reference. 
Cannabinoid Profile Pure Spectrum CBD Oil Tincture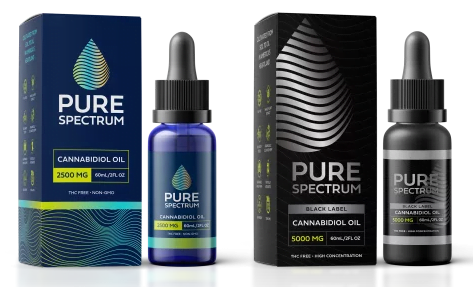 Pure Spectrum offers pure CBD oil tinctures without other cannabinoids besides CBD. Except for some products that contain a micro-fraction of CBN. So, no THC and, therefore, no intoxicating effects.
These oil tinctures are organically grown and extracted. They are non-GMO and solvent-free. But are they organic, like SOL CBD oil? There is no indication of that on their website.
The carrier oil for the CBD extract is MCT oil for a smoother taste and better absorption. They test every batch and post results on their website, which is good.
$0.08/mg is a market-average price. We compared Pure Spectrum vs. the other brands. With their completely new product line, they stand their ground.
Looking for a 750 mg hemp oil review? iDWeeds has many reviews on different strengths of CBD oil.
Thanks to our long cooperation and market recognition, we negotiated great prices with the top brand Avid Hemp.
What We (Don't) Like
Pure Spectrum should have some decent skincare products. We are waiting for samples to arrive, after which we will update this review and add our findings.
Limited Product Line
Some of the most popular CBD products like gummies and vape products are missing. You can find these in our Hemp Bombs e-liquid review, though. Besides tinctures, Pure Spectrum does have isolates. However, not everyone knows how to use CBD isolate.
Low iDWeeds Rating for the Oil
The Pure Spectrum CBD oil scores low in our ranking. They do not live up to today's market demands.
Who owns Pure Spectrum CBD?
Brady Bell is the founder and CEO of Pure Spectrum CBD.
Where is Pure Spectrum CBD located?
Pure Spectrum HQ is located at 32045 Castle Court, Suite 50, Evergreen, Colorado, 80439
Does Pure Spectrum CBD sell Full-Spectrum or Isolate CBD?
The name Pure Spectrum might be considered somewhat misleading as it creates an association with full-spectrum. However, Pure Spectrum CBD's products are isolated CBD, without any other cannabinoids and they do not test on terpenes.
Where to Buy
The safest and most affordable way to buy is straight from the manufacturer online. As there can be knock-offs and scams, make sure you get the real deal at the lowest price.
Coupon Code Discounts
We managed to negotiate big CBD discounts for our visitors. Enjoy our gifts!
[cp_info_bar id="cp_id_acf73″]– Click here for a CBDistillery 15% OFF code
– Plus many more coupons inside your inbox, like Endoca 20% OFF, by entering your email address below[/cp_info_bar]
[/av_one_full]