Updated on June 25th, 2022
Isn't it true that we often care more about our beloved pets than about ourselves? I don't know about you, but my heart is aching when I see my dog suffer from pain, anxiety, or seizures.
CBD brings hope as this supplement is as beneficial for your dogs as it is for you.
CBD for Dogs Brand Catalog
Can you give CBD oil to dogs?
Many people doubt if CBD oil is safe for dogs. The short answer is, of course, you can.
CBD or cannabidiol is an extract from industrial hemp, specially cultivated to contain very little (less than the legal limit of 0.3%) THC.  It has a high concentration of CBD, responsible for many health benefits in humans and pets alike.
A decade or two ago, scientific research on cannabis revealed a system in our bodies that we were previously unaware of. It was named the endocannabinoid system after marijuana, the substance that led to its discovery.
Read our Nuleaf Naturals review to get to know this top-notch CBD for pets. Many companies even have CBD treats for dogs and other pets.
Endocannabinoid system
Dogs, pets, and practically all animals have an endocannabinoid system just like humans. The endocannabinoid system is responsible for our dog's health, emotional balance,  immune system regulation, and healing.
The compounds of your dog's endocannabinoid system are called endocannabinoids (EC's). They work on the neuroreceptors that, in turn, regulate the production of hormones and proteins, controlling the immune system, internal organs,  thought processes, and feelings of your dog.
The natural equivalents of endocannabinoids found in cannabis/hemp are phytocannabinoids. They similarly interact with your dog's endocannabinoid system by supplementing them in case of a shortage to balance them out.
Is pot bad for dogs?
As we have already mentioned, CBD does not get your dog high. The cannabis component THC, responsible for impairing effects,  is reduced to a bare minimum (legal limit (0.3%). The cannabis plant, which differs from industrial hemp, has a much higher concentration of THC and a much lower concentration of CBD.
CBD is not bad for your dog and cannot get him high.
So, you don't have to worry about what happens when you get your dog high because it will not happen, as long as you give it CBD and not cannabis. If you have any doubt, try it yourself, and you will feel its effects on you.
Effects of CBD on your dog
Just like with humans, cannabidiol will make your dog feel relaxed—it will calm your dog down, help him sleep better, and relieve any pain he may be feeling. CBD oil for dogs is very effective in reducing and, in most cases, eventually eliminate seizures. With the best CBD for anxiety, your dog will calm down and enjoy a stress-free life.
Many positive effects on your dog's health exist, and ongoing research still discovers new potential benefits.
Dog owners report that CBD oil for pain management provides relief for dogs. But many people find pain relief with CBD. Here you can find the best prices on CBD oil.
Global Animal Pharmaceutical Spending
Did you know that in 2016 we spend 30 BILLION dollars ($30,000,000,000) worldwide on animal pharmaceuticals, increasing by 87.5% since 2006?
Vet CBD dosing chart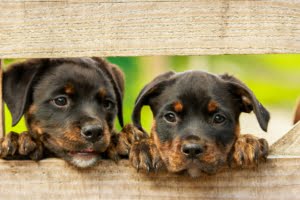 CBD Dosing is one of the most important things once you have decided to start giving your dog cannabidiol.
Here are user-based dosing guidelines.
Start with a low dosage and slowly increase up to the regular daily dosage
It would be best if you based dosing on your pet's weight (0.35 mg CBD/kg dog's weight)
Three smaller doses per day instead of one big dose
Dogs up to 35 kg (~75 lbs) regular daily dosage of ~9 mg
Dogs over 35 kg (~75 lbs) regular daily dosage of ~15 mg
A high daily dosage (but not necessarily a maximum) for dogs is 1mg/kg/day – for a 35 kg dog, this is 35mg/day, etc.
How much CBD Oil should I give my dog?
You can handle CBD dosages boldly as there are virtually no side effects and overdose limit. There is no harm in starting with 15 or 20 mg per day. However, this average amount might be too much or too little because of the many different dog sizes.
Want to know how many drops you need to take based on the percentage indicator on your dog's CBD oil bottle? Use our CBD dosage calculator.
| mg / day | Dogs under 35 kg (75 lbs) | Dogs above 35 kg (75 lbs) |
| --- | --- | --- |
| Day 1 to 4 | 10 | 15 or more |
| Day 5 to 9 | Increase to 15 if necessary | Increase to 25 mg if necessary |
| Day 10 to 30 | Increase to 20 if necessary | Increase to 35+ mg if necessary |
iDWeeds Top Vet CBD Oils
There are many CBD products for sale, but unfortunately, it is still an unregulated industry, and there are many fake products out there. We have sifted through the rubble and tested the best organic CBD for dogs on the market.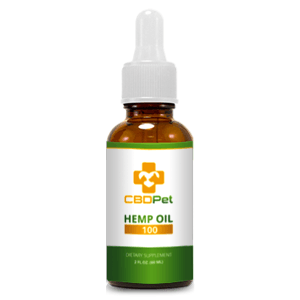 CBDPet is made of concentrated CBD from 100% organically grown hemp and is fully certified and free of pesticides and herbicides. It is a genuinely full-spectrum CBD oil that is easy to give to your pet— either place drops of the oil under its tongue or mix it into its drinking water or food. It is a high-grade CBD ensuring your pet gets all the health benefits it deserves.

Receptra Naturals is an American company that ships worldwide. Their products are 100% grown on family farms in Colorado. All of their pure hemp oil is extracted from premium hemp flower, although not all organic ingredients.
They ensure a full spectrum of hemp's cannabinoids without using the plant's seeds, stems, or stalks.
Third-party testing and validation allow them to guarantee consistent, pure hemp extracts for your pet's daily routine.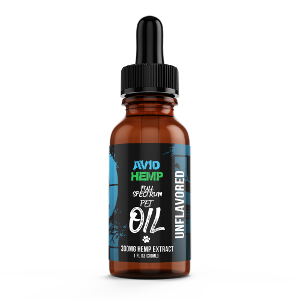 Avid Hemp recently extended its product line with a 300mg hemp oil for pets.
Based on scientific research and traditional knowledge, it's formulated for pets to boost their immune function, support vital detoxification systems, and help reduce oxidative stress.
This gentle, natural supplement supports:
Healthy and normal heart function
Heart muscle & heart rhythm
Healthy blood pressure
Good circulation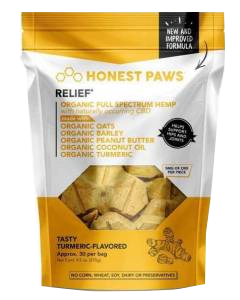 Honest Paws is a CBD brand focused on pets. They carry four CBD products for conditions like anxiety and joint aches. Please read all about them in our Honest Paws reviews.
Soft Chews
CBD Bites
CBD oil
CBD Peanut Butter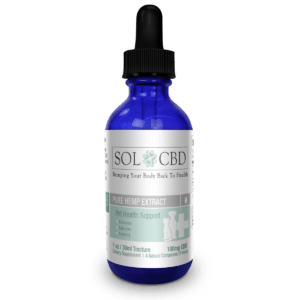 SOL CBD is an American company with a wide range of CBD products. They have a particular CBD product for pets called CBD Pet Health Support. It is a high-CBD oil, so it contains no other cannabinoids. This means that its therapeutic strength is considered less than full-spectrum oils.
All of their products are tested and analyzed, and the certificates of analysis are posted on their website. Read the many customer reviews on the SOL CBD for Pets product, and you will see that there are many positive results and happy dog owners.
How to administer CBD to your dog
There are several ways to give your dog cannabidiol tincture or oil.
Sublingual – under your dog's tongue
Drop and mix it with the dog food
Drop and mix it with its drinking water
Pet CBD treats
First of all, is there any difference between CBD tincture vs. oil? The terms are often used interchangeably, but there is a slight difference.
For sublingual administering, it is best to use a flavorless tincture. Dropping the cannabidiol tincture under your dog's tongue has the advantage of being absorbed by its body faster because it doesn't have to take the longer route through the digestive system.
For people, there are also other ways to take CBD.
Wholesale CBD Oil
Pet shops and CBD shops can now benefit from bulk CBD prices and professional wholesale support. Our partner offers one of the broadest product lines with in-house manufactured and third-party tested CBD.
You'll probably regret it if you leave this chance behind.
Sources
Sources:
https://www.fda.gov/newsevents/publichealthfocus/ucm484109.htm
https://www.dogsnaturallymagazine.com/cbd-oil-for-dogs/
https://en.wikipedia.org/wiki/Endocannabinoid_system
http://www.vetstreet.com/our-pet-experts/is-medical-marijuana-safe-for-pets-a-case-for-more-study
https://hightimes.com/health/cbd/experiment-does-cbd-work-dogs/
https://www.innovetpet.com/pages/cbd-dosing-calculator
https://www.cbdschool.com/how-to-use-cbd-hemp-oil-for-pets/
https://ministryofhemp.com/blog/cbd-products-pet/