Updated on January 4th, 2022

Established in 2016, CBDistillery was founded by a group of Californians with a passion for CBD. The company is based in Denver, Colorado, along with a U.K. branch office. In our opinion, it is definitely a top brand.
Seeing the growing number of expensive – often inferior – products saturating our market, the company continues to focus on quality and value. This is backed by over 26,000 overwhelmingly positive reviews. 
CBDistillery obtains all its products from certified, naturally-grown U.S. hemp, with all items subjected to third-party testing.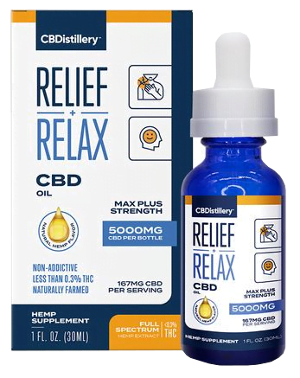 25% Off applied automatically at checkout on orders above $150
CBDistillery Product Line
They have products for sale in isolate, broad-, and full-spectrum. Third-party tests are in a QR code with each product.
CBDistillery offers a range of full-, broad-spectrum, and isolate CBD tinctures. Each 30ml bottle comes with a dropper to make dosing very easy. CBD Oil Tincture is available in 250mg, 500mg, 1000mg, 2500mg, and 5000mg options, offering a wide range of products to suit anyone's needs.
Full-spectrum tincture identical to the oil line of products, but designed for pets to enjoy the benefits of CBD. Each 30ml bottle offers 150mg or 600mg options.
CBD Capsules and Softgels are available in broad-, and full-spectrum options, which is great for those who are concerned about THC. Each pill contains 30mg of CBD, with a choice of 30 or 60 capsules per bottle.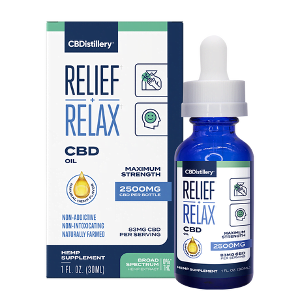 CBD gummies offer a delicious, precise, and convenient way to dose. Each is made contains 30mg of isolate. Total of 25 chews per bottle. Customers can choose between a regular or "Nighttime" option – the latter of which adds 1.5mg of melatonin (a natural sleep aid) to each piece.
CBD creams (full-spectrum), lip balm (broad-spectrum), roll-on "Relief Stick" (broad-spectrum), and warming/cooling cream (broad-spectrum). Creams, lip balm, roll-on sticks, and warming/cooling creams contain 500mg, 25mg, 500mg, and 300mg respectively.
Broad-spectrum e-liquids meant for consumption in a standard vape mod (preferably sub-ohm). Available in 500mg "Regular Strength" and 1000mg "Extra Strength." Being broad-spectrum, vapers still enjoy the benefits of terpenes, other cannabinoids, and the entourage effect – all without a trace of THC.
CBD isolate containing 98% pure CBD. Currently available in one-gram containers. Perfect for adding to food/drinks. CBD isolate-, broad-spectrum, and full-spectrum powders and even CBG isolate powder.
Shipping Locations
CBDistillery ships via UPS. All packages are shipped out via UPS within 48 hours after payment is processed. Please note that free shipping applies to orders $75+ or more after any discount code or sale price is applied.
Additionally, they do not ship abroad.
Certificate of Lab Analysis
All products undergo third-party lab testing with every batch. Each is assigned a lot-ID and QR code for easy reference. 
Full-Spectrum CBD Tincture – 2500mg
Broad-Spectrum CBD Tincture – 2500mg
Cannabinoid Profile 2500mg Full-Spectrum
This full-spectrum product contains a high dose of CBD, suspended in fractionated coconut oil (MCT), which is an excellent carrier.
CBDistillery's tinctures come in 30ml bottles, so the concentration per dose increases dramatically depending on the label concentration. The 2500mg option, therefore, provides 83mg/ml (one dropper) of CBD – well above the 30-60mg daily dosage requirements.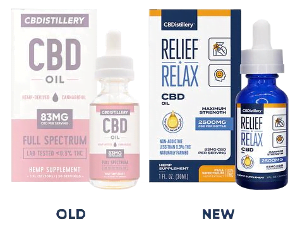 The example lab results displayed on the 2500mg full-spectrum oil product page shows trace amounts of other beneficial cannabinoids, including:
However, terpene levels (page three of the report) are only available after scanning the product's QR code. THC levels are close to the legal limit, at 0.23%. 
Isolate tests show no presence of other cannabinoids. Products are also tested for:
Solvent traces

Heavy metals

Pesticides

Microbes

Other contaminants
All of these come back negative or well within acceptable levels. None of the oil tincture products are flavored so that customers can expect a typical "hempy" taste. It is easy to diminish this by mixing the product with food or drinks.
Cannabinoid Profile 2500mg Broad-Spectrum
This broad-spectrum oil is THC-free but contains more terpenes. Comparing full-spectrum vs. broad-spectrum CBD oils of CBDistillery is rather interesting because, without that, anyone would say the full-spectrum is more potent.
However, the absence of THC in the broad-spectrum oil is more than made up for by the higher amount of terpenes.
Not only does the broad-spectrum contain four terpenes, compared to two in the full-spectrum oils, but in weight percentage, the broad-spectrum oils contain nearly ten times more terpenes. This makes the broad-spectrum oils very potent indeed.
Compared to lower-ranking brands, like Pure Spectrum CBD, this cannabinoid profile looks very good.
Benefits
As you can see from this CBD review, CBDistillery offers both full and broad-spectrum oil, but its 2500mg oil has additional cannabinoids with their own sets of benefits. And although it is not the cheapest, they are quite cheap compared to the competition. 
Interestingly, their broad-spectrum products appear to have more terpenes than the full-spectrum option. This is unclear; however, it could be due to how they process the oil.
Broad-spectrum oils can be made in one of two ways. The first option is to process and filter the THC out of the final product. The second method involves refining the CBD into an isolate, then artificially re-adding all the other compounds.
One of the product's ingredients is "natural terpenes." After contacting their customer care representatives, they informed us that the broad-spectrum products retain their terpenes during processing and are not added after the fact.
Keep in mind; they advise that their broad-spectrum oil can still contain up to 0.05% THC – a minimal amount, but something worth noting for those taking drug tests.
Pain Relief
CBD, CBG, and CBC are all known anti-inflammatories, ideal for issues such as arthritis or sprains and strains. 
There is also strong evidence to suggest that CBD can be effective at reducing focal and neuropathic pain.
Caryophyllene and valencene have analgesic properties too. Therefore both tested CBDistillery oils are potent analgesics. We recommend taking the best THC tincture for severe pain like heavy migraines and pain from cancer and chemotherapy. 
Sleep
Many consumers use CBD as a general sleep aid or to combat insomnia.
Both Myrcene and Caryophyllene help with sleep and have strong relaxing properties. Therefore the broad-spectrum oil is better for rest. 
Anxiety
Is CBD oil good for anxiety? Many individuals report that CBD is effective at reducing anxiety. Limonene also reduces stress, giving both full- and broad-spectrum oils higher anti-anxiety properties.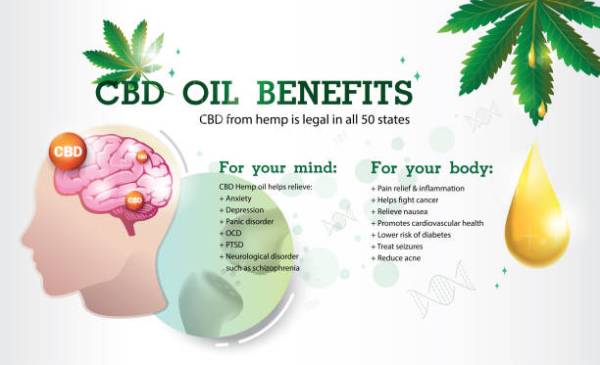 What We (Don't) Like
There is plenty to like about CBDistillery. Let's take a look at some of the pros and cons of the company's products.
Good Selection
Customers looking for a one-stop shop will be quite happy with the selection at CBDistillery. Aside from the usual oils, customers can purchase high-quality e-liquids, topicals or buy CBD gummies, edibles, and more. 
Caffeine and CBD go well together, but CBDistillery doesn't sell CBD coffee yet, nor any other drinks. Private label CBD energy shots are a great chance to enter the CBD market for beverage companies.
However, for the best marijuana gummies, you'll have to find a good MOM shop (Mail Order Marijuana). But be selective as there are many scam sites out there.
Third-Party Results Require Extra Steps to Access
Page one of the results is available online in each item's picture gallery. However, customers have to use a phone app to scan the QR code on each bottle/container to see the full test results. 
Consequently, this information is less accessible for people without smartphones or those who aren't the most tech-savvy.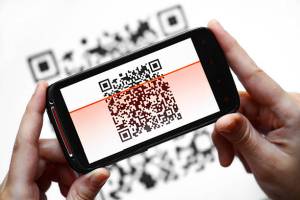 No Flavor Options for Oils
For some, lack of flavor may not be a dealbreaker, but it certainly might make taking CBD rather unpleasant. 
Despite many oil varieties available, all are unflavored, forcing people to deal with the hemp taste. Some may feel compelled to mix the tincture with food or drinks to work around the problem. However, this increases the time it takes for the tincture to take effect.
Not Organic
CBDistillery uses certified, non-GMO U.S. hemp in its products. However, they don't list it as organic, like, for example, Mana Artisan Botanics. 
Thick E-Liquid
Despite offering plenty of great CBD e-liquid choices, CBDistillery falls into the same trap as many of its counterparts. They make the seemingly universal mistake of using too much vegetable glycerin (VG) and very little propylene glycol (PG).
The juice has a VG/PG ratio of 85/15, giving it a VG level on par or above typical "premium" e-liquids. While this speaks volumes about the quality, the juice's thickness makes it unusable for basic devices, requiring more powerful (and often expensive) tube or box mods with large tanks.
Where is CBDistillery Located?
CBDistillery is based out of Denver, Colorado.
Where to Buy CBDistillery CBD Oil Tincture?
Buy CBDistillery products at thecbdistillery.com or from several local retailers nationwide.
How Many Drops of CBDistillery 2500mg Full-Spectrum CBD Oil Tincture?
CBDistillery suggests one dropper (1ml) of 2500mg Full-Spectrum CBD Oil Tincture per day, which is 83mg CBD. 
1 milliliter contains 20 drops, which is one full dropper. A 30 ml bottle, therefore, contains 600 drops. Let's say you would like to take a daily dosage of 25mg – How many CBD drops should you take?
2500mg divided by your daily dosage of 25mg makes: 100 dosages per bottle or 100 dosages per 600 drops.
1 dosage of 25mg is, therefore: 600 divided by 100 equals 6 drops
How Much THC is in CBDistillery Tinctures?
THC levels in CBDistillery tinctures are visible on the first page of the report shown in the product pictures. The CBDistillery full-spectrum tinctures, do contain the legal amount of THC. The CBDistillery broad-spectrum tinctures are THC-free.
How to Use CBDistillery E-liquid
To use CBDistillery e-liquid, pour the liquid into the tank as per the vape manufacturer's instructions. For best CBD absorption, inhale deeply for one to two seconds (known as direct-to-lung vaping).
Where to Buy
The safest and most affordable way to buy is straight from the manufacturer online. As there can be knock-offs and scams, make sure you get the real deal at the lowest price.
25% Off applied automatically at checkout on orders above $150
Coupon Code Discounts
We managed to negotiate big CBD discounts for our visitors. Enjoy our gifts!
– Click here for the CBDistillery 25% OFF code
– Plus many more exclusive CBD coupons inside your inbox!
– Get 20% off in the American Shaman CBD oil reviews.
Sources
Sources:
https://www.fda.gov/newsevents/publichealthfocus/ucm484109.htm