Updated on January 4th, 2022
Mana Artisan Botanics is also an American company, but they operate out of Hawaii. It seems like it is Hawaii's first wellness-driven hemp company. Many Hawaiian values have formed their way of life and doing business.
Since they grow CBD-rich hemp on their farm in Hawaii, they control the whole process from Farm to Bottle. Furthermore, outdoor-grown hemp is much better than indoor-grown.
They are inspired by and infused with respect for the land, for the wellbeing of people. Mana Artisan Botanics strives to achieve internal harmony and peace for their customers through their products.
The light flavors in their CBD oils of macadamia nut and turmeric combined with a hint of vanilla create a delicately fresh and easy to ingest liquid gold elixir.
iDWeeds does NOT sell CBD (Cannabis) merchandise. We compare products from trusted brands based on potency, value, and consumer satisfaction. As CBD demand creates a flood of shady scam sites, our mission is to prevent dissatisfaction and keep you from consuming a low-quality, contaminated product.
When you order from one of these links, we may receive some compensation. Nonetheless, our CBD hemp oil reviews are honest, fact-based, and verifiable, thanks to our transparent testing procedure. See our full notice.
Mana Artisan Botanics Product Line
The CBD products for sale at Mana Artisan Botanics:
Hawaiian Turmeric Hemp Oil is available in 1 oz, 2 oz, and 4 oz bottles (30 ml, 60 ml, and 120 ml). The strength is as much as 150 mg CBD per ounce. Besides that, they have a triple-strength version of the oil with a rather potent 450 mg of CBD per ounce.
Customers can choose between two organic CBD tinctures with added herbs and flowers.
They offer one type of honey (Hawaiian Lehua and Wilelaiki honey), infused with organic hemp extract. It is available in two sizes, 2 oz and 4 oz (60 ml and 120 ml).
And their Hawaiian Herbal Hemp Salve in a 2 oz container (60 ml) completes their product line.
Shipping Locations
Mana Artisan Botanics ships worldwide. It's best to order directly through their website and apply our coupon code discount. There are a lot of resellers on the internet that otherwise could come in between and rack up the price.
Besides, you risk getting fake products when ordering from others. iDWeeds independently reviews directly from the source.
Certificate of Lab Analysis
Since all Mana Artisan Botanics products are quality tested by an independent third-party lab they ensure you get the best product possible. A Certificate of Analysis is available on their homepage.
Click on a product that suits your needs and go to the order page.
Cannabinoid Profile Mana Artisan Botanics CBD Oil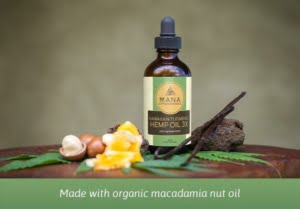 Their most potent and full-spectrum hemp oil is called Hawaiian Turmeric Hemp Oil 3X.
It is an organic Hawaiian macadamia nut oil infused with organic hemp extract. Also, Mana added fresh Honaunau farm-grown turmeric and organic fair-trade vanilla bean.
The oil delivers as much as 900mg of full-spectrum phytocannabinoids in every ounce. The light flavors of macadamia nut and turmeric combined with vanilla hint give the best-tasting hemp oil on the market.
While the cannabinoid profile does not show many cannabinoids, the oil contains high levels of CBDa. Besides CBD, three other cannabinoids help create the entourage effect. CBDa is raw cannabidiol, and it is especially beneficial because it still contains a lot of plant material, adding to the health benefits.
So overall, the Hawaiian Turmeric Hemp Oil 3X is a very well-balanced and healthy oil. Mana's herbal hemp salve is an effective CBD cream for pain out there.
It contains 150 mg of full-spectrum CBD per ounce for topical application. But for top quality, you pay top dollar.
But besides the hemp balm, Mana has arguably the best CBD skin care products, including CBD massage oil and CBD body lotion. Almost all reviews posted on iDWeeds contain a CBD oil review coupon.
What we (don't) like
Mana Artisan Botanics has excellent CBD products with many healthy additives.
No Terpene Testing
However, it is a pity that they do not test on terpene content and post the results on their website. Mana CBD oil might contain terpenes, though. But if they do not test for them, nobody will know.
No Vape Liquids and other popular CBD products
Also, they do not offer any vape products like Savage CBD Oil for vaping. And as Mana doesn't provide them, some of you will ask yourself where to buy CBD gummies. Follow the link to get some suggestions.
What about our Pets?
Despite the excellent products Mana carries, we would welcome Pet CBD oils and treats.
Value for Money
Although Mana Botanics CBD is of high quality with additional compounds like Turmeric, it is priced higher vs. comparable products.
How to Safely Buy CBD?
Buy CBD
Finally, the cannabis and CBD markets are booming. But the flipside of the coin can't be ignored either.
Pay attention to mother nature in spring. Everything starts growing uncontrollably and unwanted weeds tend to overgrow your freshly planted flowers and plants. Often it takes a rather professional eye to tell the good from the bad.
And this is what is happening in CBD land because it is spring season for CBD business. CBD retailers are popping up like mushrooms, with fancy websites and fancy words.
If you look closely you can see marketing has taken over and the race is on to take a big piece of the pie, no matter what it takes in many cases. Everyone calls their oil full-spectrum, 100% organic and lately they are, all of a sudden, all terpene-rich.
Each of them claims to have the highest quality and use the best and most innovative extraction method. Is this all really true? So, can you believe all that?
iDWeeds is Separating the Wheat from the Chaff
Do you feel the catch ordinary people are probably facing? I know this also from my own experience. I'm having to deal with the consequences every spring when I accidentally cut some of my wife's flowers and plant that I didn't recognize amongst the bad weeds.
Fortunately, when it comes to legitimate businesses and the cannabis world, at iDWeeds we have decades of experience in helping the public find the right trustworthy CBD companies and the best CBD products.
Good Tasting CBD Oil
Many people want to know first of all, before they try it, how CBD tastes because they are afraid it tastes bad. Well, honestly it is rather like making a mountain out of a molehill. So, the best advice we can give you is, just try it.
This old Latin saying is most noteworthy, "There's no accounting for taste".  But different people and different cultures have developed different tastes. CBD, however, doesn't taste bad to the point that it is hard to take in your mouth and swallow.
Yet, many people, including myself, like the taste. Furthermore, the longer you use it the more you get used to it. It is also important how you take it. Because sublingual is probably the most common consumption method, here are a few tips.
Drop the CBD oil drops UNDER your tongue and not on them as some people do.
Keep them there for at least one or two minutes and keep your head in an upright position.
Don't talk and move the saliva around that is building in your mouth.
And swallow in one single time
Follow-up with a glass of water and that's all
If you do it like that you will hardly experience the taste and it will not itch your throat. And for those who are really fastidious, you can always use capsules, edibles etc. to avoid the taste completely.
How to use & dosage?
How to use & dosage Mana Artisan Botanics?
The best way of using Mana Artisan Botanics is sublingual. Drop the necessary amount of drops under your tongue and keep them there for at least a minute. After that, you can swallow them and drink some water if necessary.
The amount of drops you need to take depends on the purpose. In the health section of this website, we have dozens of articles on conditions. For each condition, the recommended amount of CBD is listed in the dosing section.
How many 'Turmeric Hemp Oil 3x' drops should I take?
1 milliliter contains 20 drops. A 30 ml bottle therefore contains 600 drops.
Mana Artisan Botanics offers hemp oil with the following strengths: 900mg per oz (30ml). They offer 1 oz, 2 oz and 4 oz bottles all with 900mg CBD per ounce.  Let's say you would like to take a daily dosage of 25mg – How many CBD drops should you take?
All Mana bottle sizes with 900mg CBD per ounce
900mg divided by your daily dosage of 25mg makes: 36 dosages per bottle or 36 dosages per 600 drops.
1 dosage of 25mg is therefore: 600 divided by 36 equals 17 drops
Where is Mana Artisan Botanics located?
Mana Artisan Botanics operates out of Hawaii: 75-5665 Kuakini Hwy, Suite 3
Kailua-Kona, HI 96740
Where to Buy
The safest and most affordable way to purchase is straight from the manufacturer online. As there can be knock-offs and scams, make sure you get the real deal at the lowest price. Click on the button below to go straight to the official website where you can apply our coupon code discount.
Coupon Code Discounts
We managed to negotiate big CBD discounts for our visitors. Enjoy our gifts!
[cp_info_bar id="cp_id_acf73″]– Click here for the Mana Artisan Botanics 10% OFF code
– Plus many more coupons inside your inbox, don't miss out!
– Here's already a 15% off Pure Spectrum coupon.[/cp_info_bar]
Sources
Sources:
https://www.fda.gov/newsevents/publichealthfocus/ucm484109.htm
https://www.leafly.com/news/strains-products/high-cbd-products-for-medical-marijuana-patients-no-access-no-pro
https://hightimes.com/products/best-cbd-products/