Updated on June 25th, 2022
CBD flower is a huge deal for CBD enthusiasts everywhere.
Not only does it offer a host of benefits, but it also gives experienced cannabis users a chance to consume or use it just like regular marijuana buds.
It's quite literally the closest you'll come to a genuine marijuana experience without the pesky legal complications (of THC).
CBD's improved accessibility in recent years doesn't hurt either. It's allowed all kinds of CBD products to expand – bud is just a single example.
One look at some of the CBD retailers and producers shows just how widespread and diverse the flower options are. But if hemp-derived CBD's history in the U.S. has taught us anything, it's that there are a lot of unknowns as well.
This is why it's essential to know what's available, the nature of the product itself, and how its use or possession affects you.
Less Popular Brands
Although well-known in many circles, a brand's popularity in name does not alaways match its products. Based on user reviews, the following companies fail to live up to their hype:
Tweedle Farms uses mass-produced, organic hemp for their products. Located in Oregon, all of the products come from certified Oregon hemp farmers.
Although their dry herb appears to be decently sourced, it falls short of customer expectations. One Leafly user described the CBD flower as "decent, but nothing to write home about," instead giving his wholehearted endorsement to the aforementioned Dreamland Organics.
Others have slightly more favorable opinoins, but they are far from enthusiastic compared to other brands.
Plain Jane Hemp certainly lives up to its name. They offer an odorless cannabis product intended for users who wish to be discreet with their CBD smoking. Unfortunately, this tiny (and likely unappealing) benefit is an exercise in self-sabotage.
In order to kill any odor, the company has to literally remove all of the terpenes. Without these aromatic compounds, the flower is not only odor-free, but also devoid of any additional benefits. Essentially, it is a shell of what it could be.
CBD Hemp Direct is based in Las Vegas, much of the retailer's hemp is grown in-house. However, it also sources product from Oregon and California.
In terms of critical reception, CBD Hemp Direct received medicore reviews. In fact, a Leafly review stated Tweedle Farms was comparatively better.
Single Source
Single Source is based in the heart of NC and is a real hemp powerhouse. Besides making some other CBD products, they focus on smokable D8-THC, CBD, and CBG.
Please note that the strain selection could have changed in the meantime.
CBG White
This flower has light green, almost white nugs flowing with orange hairs. Great for relief and perfect for daytime use. CBG White comes with an overall body relief and a light-heady feeling.
Sour G (CBG)
An amazing array of trichomes, paired with orange hairs, make these buds shine in the light. Perfect for relief and daytime use, Sour G has an overall body relief and a very light-heady feeling.
Critical G (1:1 CBD:CBG)
Critical G has beautiful purple hints paired with orange hairs that give these dense buds an unprecedented look. A wave of relief and relaxation spread through your body from head to toe.
Apollo CBG
The gorgeous orange trichomes of this smokeable hemp flower make the large buds glow. Apollo CBG has an increased entourage effect and calming benefits.
Elektra
Elektra has bright green sticky buds with trichomes, which shine bright in any light. This aromatic CBD flower is great for any time of day. It will provide you calm and euphoric effects.
Wedding Cake
These super frosty CBD hemp flower buds drip with trichomes and have many little orange hairs. You can easily break down these buds by hand as they are light and fluffy. Wedding Cake comes with CBG-benefits and calming effects.
Suver Haze
Suver Haze has a beautiful green-purple color with dense buds. This CBD-rich bud supports the body's natural ability to manage stress and is a strong, natural adaptogen. It enables you to let go of the stress from your day and relax into your evening.
Sour Space Candy
Sour Space Candy has gorgeous bright green shimmering buds. It provides a clear and uplifting calm.
Elevate your mood while keeping your feet on the ground with this daytime strain.
Lifter
This Lifter CBD flower has colorful buds with sparkly trichomes and darker tones. These medium-sized nugs provide a daytime all-natural energy boost. It calms your nerves but keeps you focused and uplifted.
Hawaiian Haze
This Hawaiian Haze CBD hemp flower has light green buds with orange hairs. These small sticky nugs have an uplifting and energetic nature. It'll keep you sociable while feeling relaxed and calm.
Bubba Kush
Bubba Kush is a dark CBD hemp flower with fluffy buds and hints of purple at the tip of every leaf. This hemp flower is great for evening relaxation with calming, sleepy effects.
Avid Hemp
Hawaiian Haze CBD
CBD Content: 16.35%

This sharp strain holds aromas of pineapple and citrus, with some floral notes. The tropical note of this strain gives you a similar experience as the real strain, just without the impairing effects of THC. Being Sativa-based, you'll feel clearness in your head, which is great for daytime smoke. You can get chores done around the house and still feel relaxed.
Suver Haze CBD
CBD Content: 16.82%
Suver Haze is a 50/50 Hybrid, and therefore not a Sativa or Indica, but something right in the middle. You might feel a little hungry, and you might feel a bit inspired. It's the best of both worlds! Known for its cerebral effects, it is great for relaxing, reducing stress, and taking the edges off a stressful day.
Lifter CBD
CBD Content: 19.47%
The namer of this strain knew is stuff. Lifter is a crossbreed of Suver Haze and Early Resin. It features a funky, skunky, cheesy aroma and has a smell rivaling some of the best THC-bud, without THC intoxication. As it is almost pure Sativa, this is a great daytime strain for increased activity, stimulating conversation, and inspirational ideas.
Sour Space Candy
CBD Content: 18.45%
Sour Space Candy is a delicious strain and a cross between Sour Tsunami and Early Resin Berry. It has a strong, sour flavor profile with a light berry hint. With purple, orange, and green colors, these dense buds are multicolored. Being a Sativa, it is a great flower to use during the day.
Save 50% with code: iDWeeds50
Green Flower Botanicals
Humboldt Apple
CBD Content: 12%
Humboldt Apple's name is derived from the place it is cultivated – a former apple orchard in Humboldt County, California. This manages to shine through in the strain's spicy, sweet, fruity, apple-like aroma.
Reportedly, this strain's flavor makes for an enjoyable smoke – especially when vaped. Individuals typically use it for relaxation, but it is also effective against pain and inflammation.
Other Green Flower Botanicals CBD hemp flowers:
Super Lemon Haze – CBD Content: 15%
Blue Dream – CBD Content: 16%
Granddaddy Purple – CBD Content: 15%
Dreamland Organics
Bast CBD Flower
CBD Content: 10%

Bast is a rather obscure strain (named after an Egyptian goddess) but a rare gem nonetheless.
Its smell is comparable to the pleasant scent of freshly mowed grass, with floral undertones that really shine in its flavor.
Users rave about this Indica-dominant strain's deceptively powerful relaxant properties. Despite having only 10% CBD, Bast reportedly is an excellent choice for a solid night's sleep. The effects are initially cerebral but slowly progress throughout the body for a well-rounded experience.
Epic Sunrise
CBD Content: 15%

A Sativa-dominant strain, Epic Sunrise is popular among Dreamland's customers for its citrusy, cheesy, skunky flavor and fruity/cheesy scent.
Although relaxing, its Sativa genetics manages to shine through, helping consumers feel mellow yet awake. This makes it a perfect all-day smoke, ideal for stress relief without drowsiness.
Industrial Hemp Farms
Super Lemon Haze
CBD Content: 19%

Based on the award-winning marijuana strain of the same name, Super Lemon Haze gets its name for its overwhelmingly citrusy aroma (thanks to its high limonene content).
As is common with "haze" strains, Super Lemon Haze is Sativa-dominant and known for its uplifting effects. Consumers enjoy it for its mood-enhancing abilities, making it great for times when people feel down. It can also help provide a boost of mental and physical energy when individuals feel drained.
Indica Kush CBD
CBD Content: 16%

Indica Kush CBD reportedly has a very potent, skunky/cheese smell. Overall, users say that it smokes smoothly and provides a pleasant, sweet taste.
True to its name, Indica Kush CBD provides a very relaxing experience. However, its effects are not totally sedating. It is the perfect strain to take the edge off while still staying present and active.
What is CBD Flower?
CBD flower – also known as "CBD bud" – is cannabis flower sourced from female hemp plants (Cannabis Sativa L). 
On the surface, CBD flower looks almost identical to marijuana buds found in dispensaries throughout the U.S. However, its source and purpose are very different from its THC-rich counterparts.
To better understand what CBD flower is (especially if you plan to buy it), we need to discuss a few essential things.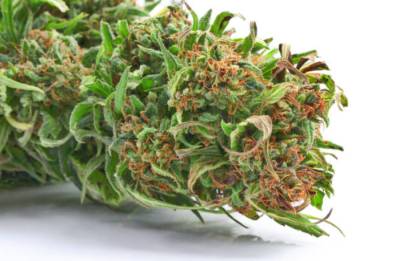 Where CBD Bud Comes From
As we briefly mentioned, CBD flower comes from the flower of female hemp plants. Cannabis flower – regardless of species or strain – is where you'll find the highest concentration of cannabinoids.
Like marijuana flower, the product is grown, harvested, and cured into a dry herb. Hemp farmers need to be appropriately licensed to provide this product. Granted, this doesn't mean that your CBD flower will be organic, non-GMO, or pesticide-free.
The good news is that even if a farm does the bare minimum in terms of quality, there are certain acceptable limits for chemical and microbial content – among others. Ultimately, you can rest assured that any store-bought CBD flower is safe and clean enough to consume.
CBD Flower vs. Marijuana Flower
Ultimately, there's no difference between CBD flower and marijuana flower. Both come from the plant species Cannabis Sativa L. The thing that sets them apart is that the former comes from industrial hemp while the latter producers source from THC-rich marijuana.
However, now that CBD has gained traction, licensed producers began growing high-CBD marijuana strains. Technically you could view this as CBD flower, but by definition, it's only "CBD flower" if it comes from hemp.
Additionally, it's unlikely that any marijuana flower – even if bred for CBD – contains less than 0.3% THC (the maximum limit for a cannabis product to be considered legal hemp).
Which is Better?
If you live in a state where marijuana is restricted or illegal, don't worry. CBD is CBD, no matter what the source. But what about delta 8 THC in flower? Please read our product review to learn all about it.
How Much CBD Does it Contain?
Like marijuana, cannabinoid content in CBD flowers for sale varies from one strain to another. With this product gaining popularity, there's no telling how high the levels could go. For now, however, the average maximum is 18 to 20% CBD.
Consumption Methods and Uses
All cannabis products are designed for specific uses. Generally, you can apply them in more than one way. For instance, traditional CBD vape oil or 2000mg CBD hemp oil can be consumed directly or mixed with certain foods.
But if you know your way around cannabis, CBD flower allows you to do virtually anything. It's the core component of all cannabis derivatives.
Of course, you need to make sure you store your hemp safely away from kids. Therefore this premium herb storage container is great and will last you a lifetime.
That being said, we can't cover every possible option. However, the following are applications we recommend the most.
Smoking
People use CBD bud mostly for Smoking. It's also the easiest option. Roll it into a joint/blunt; pack into a water pipe (bong); or use a dry herb vaporizer to heat the herb and inhale the cannabinoids.
Keep in mind that the most efficient and least harmful method is vaporization, as the plant matter doesn't combust. Besides that, vaping is becoming very popular, despite the attempts to demonize it.
Edibles
A lot of people like to use CBD flower (or any cannabis flower) to make edibles. However, you'll first need to decarboxylate the herb and infuse it into a fatty substance, like butter or coconut oil. Once you have that done, add it to any recipe of your choice.
Making Tea
Tea isn't really the first thing that comes to mind when we think of cannabis products, but it's pretty easy and effective. Cannabinoids don't bind to water, so you'll always need a fatty substance.
Butter, coconut oil, or high-fat milk are the best options. It's straightforward to make, compared to other ingestible cannabis options.
You can buy CBD coffee beans to enjoy your favorite drink with cannabidiol.
Wholesale Hemp Flower
CBD flower wholesale supplies are available at our partner for shops and hemp flower white label.
Legality of CBD Bud
Despite the changes from the 2018 Farm Bill, there's still a lot of confusion among the public and law enforcement regarding hemp and CBD. Ironically, hemp legalization made things more complicated. If you're using CBD flower, keep in mind how the legal landscape can affect you.
Issues With Law Enforcement
If you think hemp is free from police scrutiny, think again. In the past, businesses had their hemp seized by overzealous and incompetent police officers – one New York case is a famous example.
Ultimately, this led nowhere (other than a hit to law enforcement's credibility and pride). However, if an officer happens to catch you with a CBD flower joint, don't think for a second that merely saying it's hemp will keep you out of trouble.
Conflicts With State Law
In a cruel twist of irony, hemp's status seems to have triggered a reversal of the marijuana situation. In the U.S., marijuana is federally illegal but still legal in some states. Now, hemp is federally legal, but some states have voted to either partially or entirely ban CBD flower.
As of late 2019, hemp cultivation is illegal in South Dakota, Idaho, Mississippi, and the District of Columbia.
Can I Drive After Using CBD Flower?
Yes but do your due diligence. CBD flower does not contain enough THC to cause impairment, tho you might feel a buzz.
How Does CBD Flower Make You Feel?
Depending on the strain, CBD flower reportedly makes people feel relaxed and sleepy, while others report being alert and upbeat with a buzz. People use it for mood-enhancement, pain, insomnia, inflammation and more.
Will CBD Flower Show Up on a Drug Test?
CBD flower might show up on a drug test, since it can contain trace amounts of THC. If you're taking such a test, advise the administrator of your CBD use. To prevent a failed drug test, go for a zero THC strain.
Does CBD Flower Give You a Body High?
CBD flower will not give you a "body high" in the same way marijuana does. However, a lot of people say it triggers a strong sense of physical relaxation.
Can You Mix CBD With Nicotine?
You can mix CBD with nicotine. Many people combine their dry herb with tobacco for a better burn, tho it might make you prone to nicotine addiction.
Can You Overdose On CBD Flower?
No. You cannot overdose on CBD flower (or CBD in general).
Sources
https://www.fda.gov/newsevents/publichealthfocus/ucm484109.htm
https://hempfrontiers.com/what-are-cbd-buds-the-beginners-guide-to-hemp-flowers/
https://www.cbgenius.net/2019/05/18/ultimate-guide-to-cbd-flower-benefits-and-side-effects/
https://www.thegrowthop.com/cannabis-news/cannabis-legalization/new-york-police-left-red-faced-after-106-pounds-of-seized-cannabis-turns-out-to-be-legal-hemp
https://www.ncsl.org/research/agriculture-and-rural-development/state-industrial-hemp-statutes.aspx#mt