Updated on January 4th, 2022
Located in League City, Texas, Honest Paws has been in business since 2018. Founded by pet owners and enthusiasts, the company provides a variety of CBD pet products meant to maintain health, be it preventative or therapeutic.
All Honest Paws products are organic, soy-free, non-GMO, scientifically formulated, and third-party tested. They are also hypoallergenic, pesticide-free, and devoid of chemical/biological contaminants.
iDWeeds does NOT sell CBD (Cannabis) merchandise. We compare products from trusted brands based on potency, value, and consumer satisfaction. As CBD demand creates a flood of shady scam sites, our mission is to prevent dissatisfaction and keep you from consuming a low-quality, contaminated product.
When you order from one of these links, we may receive some compensation. Nonetheless, our reviews are honest, fact-based, and verifiable, thanks to our transparent testing procedure. See our full notice.
Honest Paws CBD Product Line
Honest Paws offers an extensive line of CBD products for pets of all sizes, backgrounds, ages, and health needs.
Soft, chewable bites are containing 5mg of CBD per piece. Available in Calming Aid, formulated to curb anxiety and help with sleep and Joint Support, meant to alleviate symptoms associated with mobility issues, like arthritis or joint inflammation
Crunchy animal and dog treats with 5mg of CBD per bite, split into product lines to address specific conditions.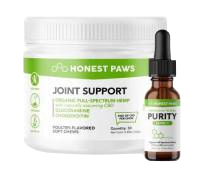 You have the choice between full-spectrum oils and "Purity" CBD oil made with CBD isolate, available for cats and dogs.
CBD Pet Peanut Butter for easy administration. Your pets will love it.
Shipping Locations
Honest Paws ships to all U.S. locations – including Alaska, Hawaii, and Puerto Rico – within two to six business days. They do not offer international shipping.
Certificate of Lab Analysis
Because Honest Paws submits all of their hemp extracts for third party testing, you can feel comfortable knowing that the products your pets eat are safe and free from harmful contaminants.
Cannabinoid Profile Honest Paws CBD Soft Chews
Honest Paws subjects its products to third-party lab tests. According to the results posted on the Honest Paws website, the only terpene detected is trans-nerolidol. Like in other CBD reviews, we have created a cannabinoid profile.
Cannabinoid Profile Honest Paws CBD Oil
For dogs and cats, the CBD oil contains full-spectrum CBD in 30ml bottles at concentrations of 125mg with no additional terpenes or cannabinoids except THC. For horses, there is a 1500 mg oil in 60ml bottles.
Unfortunately, due to the minimum amount required for detection, the third-party tests cannot tell which other terpenes are present conclusively.
Cannabinoid Profile Honest Paws CBD Calming Aid
To enhance the product's effects, Honest Paws adds extra ingredients to their formula. They help ensure that the chews have a more targeted effect. Along with the mixture of cannabinoids in its full-spectrum hemp, the soft chews offer a critical combination of natural ingredients.
Benefits
Stress, Anxiety, and Sleep
We often use CBD as a way to relieve symptoms of stress and anxiety. Honest Paws enhances these benefits with L-Thianine, which reduces anxiety and stress by interacting with serotonin and dopamine neurotransmitters.
L-Tryptophan helps with relaxation thanks to its sleep-inducing properties.
Trans-nerolidol – the only terpene detected – also helps with relaxation.
Pain
Honest Paws Joint Support contains ingredients that help CBD fight pain for joint support.
Boswellia,
Glucosamine
Chondroitin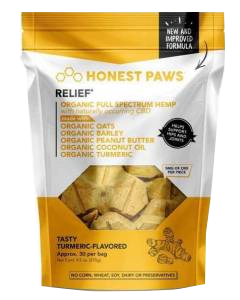 Boswellia is effective against inflammation, making it an excellent way to counter rheumatoid arthritis, osteoarthritis, and a host of other non-mobility inflammatory issues. Studies on Boswellia also showed promise as a source of pain relief and improved flexibility in patients with osteoarthritis.
Glucosamine[4] is a crucial ingredient in cartilage. It can slow down joint degradation and prevent arthritic pain. This makes glucosamine an excellent supplement for anyone with:
Osteoarthritis
Back pain
Joint pain
Jaw pain
Ingredients
What We (Don't) Like
No product is perfect, so there are a few issues that sometimes surface among customers.
No Flavor Options
For the most part, the flavor is well-received. Using natural poultry keeps artificial ingredients away, but that doesn't mean all dogs will like it. Unfortunately, Honest Paws currently offers no alternative flavor options.
Price
Price is something we can't overlook. Each container comes with 30 bites, which will last a while for small dogs. But breeds over 50 pounds need three pieces (15mg) per day.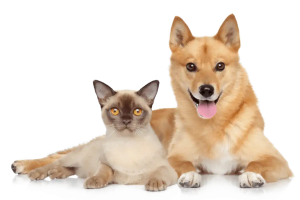 At $44.95 per container, this can start to add up quickly and puts it out of reach for some dog owners. It makes more financial sense to invest in CBD oil, such as CBDistillery, which lasts much longer for a marginal price difference.
Low Dosage
Although having a set dose per chew is convenient, 5mg is very low when there are products that contain more CBD and are perfectly safe. For instance, the 30 chews amount to a total of 150mg of CBD per container.
CBD Isolate
Although the website repeatedly states that their hemp is full-spectrum, the profiles generated by Honest Paws' third-party lab tests indicate otherwise. Aside from traces of nerolidol in the Joint Support chews, additional terpenes and cannabinoids are suspiciously absent.
This applies to all the other products they offer, not just the chews.
Where to Buy
The safest and most affordable way to buy is straight from the manufacturer online. As there can be knock-offs and scams, make sure you get the real deal at the lowest price. Click on the button below to go straight to the official website where you can apply our coupon code discount.
Sources
https://www.fda.gov/newsevents/publichealthfocus/ucm484109.htm
https://www.medicalnewstoday.com/articles/324120.php
https://www.healthline.com/health/tryptophan#health-risks
https://www.healthline.com/health/boswellia
https://www.medicalnewstoday.com/articles/265748.php
https://www.versusarthritis.org/about-arthritis/complementary-and-alternative-treatments/types-of-complementary-treatments/chondroitin/