Updated on January 4th, 2022
This 'Select CBD' review, which is now called 'Social CBD', gives you an insight into the quality and composition of their products. This well-known brand operates out of Portland, Oregon.
Select CBD has been a front-runner in bringing CBD to the vape world, and their revolutionary Select CBD pen design particularly pleased our testers.
Select CBD produces only 100% isolated CBD and is ultimately THC-free, which excludes any chances of getting 'high'. Besides, their products are entirely free from solvents and contaminants.
Product innovation is Select CBD's primary focus area. They thrive to improve extraction and processing techniques to stay ahead in cannabis science.
Seven-tier quality control ensures the highest quality is maintained. Vape pens are locked away for 24 hours before shipment to ensure they are cured, and wicks are fully saturated.
iDWeeds does NOT sell CBD products. We compare products from trusted brands to deliver you results based on strength, price/value, and user satisfaction. As the CBD market is flooded with shady scam sites, avoid disappointment and the risk of a contaminated product.
When you order from one of these links, we may receive some compensation. Nonetheless, our reviews are honest, fact-based, and verifiable, thanks to our transparent testing procedure. See our full notice.
Social CBD Product Line
Select CBD was rebranded to Social CBD and carries the exact same product line.
Disposable Vape Pens with isolated CBD and a choice of six essential oils flavors
1000 mg isolated CBD, three with flavors and one unflavored
Different flavors of broad spectrum gummies. Sleep CHILL gummies are specially formulated with GABA & L-Theanine
Social offers many different skin care products, including Muscle Rub, Topical Patch, Body Lotion, Muscle Balm Stick & more
Unflavored pet drops 750 mg isolated CBD
Shipping Locations
Social CBD ships through CBD.co to 48 US states. They don't ship to Idaho, Kansas, Nevada, South Dakota. It's best to order directly through their website and apply our coupon code discount. Many resellers on the internet otherwise could come in between and rack up the price.
In addition, you risk getting fake products when ordering from others. iDWeeds independently reviews directly from the source.
Certificate of Lab Analysis
All Select CBD products are quality tested by an independent third party lab to ensure that you get the best product possible. A certificate of Analysis is available on their homepage.
Click on a product that suits your needs and go to the order page.
Cannabinoid Profile Select CBD
Select CBD oil drops and CBD e juice are all 100% isolated CBD. No other cannabinoids and No THC. You are therefore guaranteed not to get 'high'.
Due to the rigorous quality control, the oils are always pesticide and solvent-free. The only two ingredients in the oil are CBD oil and fractionated coconut oil.
We recommend before you commit yourself to a CBD purchase to read some reviews on unflavored CBD oil. This will help you make a better choice.
Social CBD Vape Pen – Personal Experience
Our testers really liked the disposable vape pen of Select CBD and called it revolutionary. The vape experience with Select's innovative vape technology is much better, especially experienced vapers appreciate.
I have occasionally used their lavender and peppermint pen for the last two years. I love the easy, smooth, and tasty vape experience, lavender being my favorite.
My personal review will soon include other products after thorough testing.
Select's Vape Pen Innovations
A ceramic core cartridge
Airtight custom vape cartridges
This very user-friendly vape pen contains 150+ mg of CBD. Just pull it out of the box and inhale for 3 seconds. That's all there is to it. A small light at the end of the vape pen lights up, almost like a cigarette bud, as a sign that it is working.
A 6-second puff contains about 1 mg, so you'll get about 150 puffs out of this little vape pen. The pen will not produce vapor when it is out of oil, and the disposable battery is charged to outlast the oil.
A nice touch is that they print the lab analysis on the back of the box.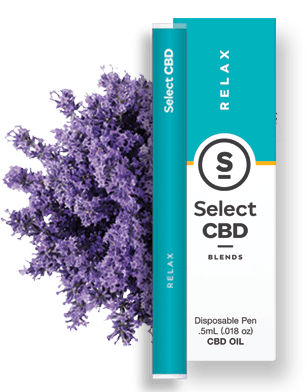 Select offers six different flavors combined with various properties.
Vaping one of the Focus vapes in the morning increases your focus for an extra-productive morning.
For the after-lunch slump, you can try the Revive vapes with a mild fruit flavor. This vape will re-energize and rejuvenate you giving you a boost for the second half of the day.
The calming and soothing effects of the Lavender and Cinnamon Relax vapes are ideal for body relaxation, perfect for a lovely relaxed evening.
Vaping turns out to be much better than smoking. Even when smoking the best CBD cigarettes, you still inhale combustion material.
What We (Don't) Like
We like best the disposable vape pen, but there are a few things for improvement.
Only Isolated CBD
It is a real bummer that Social (former Select) does not offer full-spectrum vape products, like other companies, for example, Funky Farms. This would bring the exceptional vaping experience we had to another level.
However, just recently, they added some broad-spectrum products.
The Right Vaping Experience
Vaping science is more complicated than you might imagine. Both CBD and vaping are relatively new industries, and many companies are learning by trial and error.
Ensure you don't become one of these companies' guinea pigs to help them with the perfection of their vaping technology at your cost.
Five important Vape Oil Trivia
Homogeneous vape oil or e-liquid should be completely uniform as any separation between the CBD oil and carrier oil or e-liquid cases guarantees problems.
Third-party testing is crucial in this young and still much-unregulated industry.
Vape oil and e-liquids should be clear. Avoid any cloudy, thicker or murky oils and liquids.
Organic ingredients. Avoid any vape oils and e-liquids that are not entirely organic. Natural oils contain ingredients that are free from residual solvents, pesticides, or heavy metals.
Compatibility. The vape oil or e-liquid should be compatible with your vaporizer. Incompatibility can cause problems.
Social CBD (former Select CBD) is one of the companies that have these points covered. Combined with their high-tech vape technology, Select CBD provides outstanding vaping experiences. With a disposable vape pen from Select CBD, you can ensure that the vape oil and the vaporizer are 100% compatible and in good shape.
Isolated CBD oils are, in general, better suited for vaping because everything -except for the CBD- is filtered out in the extraction process.
Does CBD help with Focus?
Does CBD help with Focus? Personally, it helps me focus on my work and provides energy during the day, while at the same time I have the feeling that I sleep better at night.
Where to Buy
The safest and most affordable way to buy is straight from the manufacturer online. As there can be knock-offs and scams, make sure you get the real deal at the lowest price. Click on the button below to go straight to the official website where you can apply our coupon code discount.
Coupon Code Discounts
We managed to negotiate big CBD discounts for our visitors. Enjoy our gifts!
[cp_info_bar id="cp_id_acf73″]-Click here for the Social CBD 15% OFF code
-Plus many more inside your inbox, by entering your email address below[/cp_info_bar]
Sources
Sources:
https://www.fda.gov/newsevents/publichealthfocus/ucm484109.htm
https://www.forbes.com/sites/nickkovacevich/2018/08/01/cannabis-for-the-win-sports-leagues-see-the-light-on-cbd/
https://www.leafly.com/news/lifestyle/8-must-have-cbd-products-for-athletes-and-exercise-junkies