Updated on August 14th, 2021
Vaped weed may seem like a write-off, but it's actually quite useful. Regardless of why you choose to vape – safety, discretion, convenience, efficiency – tossing the vaped weed is a waste of potential. Whether you're a newbie or a connoisseur, the brown leftovers in your vape hold serious potential.
Believe it or not, vaped weed still contains a significant amount of cannabinoids. This means that you can recycle them in a variety of different ways. Some are easier than others, but there's use out there for everyone.
Let's take a look at what vaped weed can do for you.
What is Already Vaped Bud (AVB)?
AVB is short for "already vaped bud". Often referred to as ABV, which stands for "already been vaped".
Aside from the obvious fact that it's already vaped, AVB underwent an essential process called "decarboxylation". This is a critical step for making a variety of marijuana products.
So, if you ever wondered, does vaped weed have to be decarboxylated, the answer is a short no.
Why Use ABV Weed?
We light dry herb on fire because we need heat to activate the cannabinoids; however, using a flame is complete overkill – not to mention hard on the lungs.
Vapes take advantage of a process called decarboxylation to vaporize THC, CBD, terpenes, and other compounds without burning them. Aside from being a lot healthier and way less smelly, it also leaves behind a gold mine of reusable bud.
Without a vape, the only other way to decarb weed is in an oven. The problem with ovens is that they're not precise, making it tough to keep the right temperature. Too much heat or too long in the oven could make a ton of dry herb go to waste.
Vapes – especially higher-end ones – are way more precise. Even simpler devices are still set to vape at specific temperatures. The only real disadvantage is that vapes only use a small amount of dry herb at a time.
If you plan to reuse large amounts of vaporizer remains, you'd better start stockpiling.

How to Make Usable AVB
Vapes might allow for more temperature control, but they can still overcook the herb. This is why you need to keep an eye out for color and temperature.
Temperature
If you want to create some good AVB, keep your vape between 315 to 440°F (157 to 227°C).
This range starts at the minimum temperature to vaporize THC, but other cannabinoids – like CBD – and terpenes will need more heat to activate. Another thing to consider is that higher temperatures will vaporize more of what's inside the herb. This is why more heat leads to a stronger high.
Put simply, the hotter the vape, the less potent your AVB.
Color
What does weed look like after vaping?
Another thing to watch for is color. As plant matter gets closer to its burning point (higher than any vape will go), the weed gets darker. The darker the weed, the less leftover THC.
This is how to know when vaped weed is done.
Ideally, your vaped weed should be a light or golden brown. Dark brown herb still has some cannabinoids, but most are gone. If this happens, try lowering the temperature next time.
6 Ways to Use AVB
Believe it or not, vaped weed has a lot of great uses. Some are easy, while others take a little skill and practice. Most of these things require decarbed weed – which your vape conveniently took care of.
You can create edibles with CBD, THC, or a balance of both. Just choose a strain that contains the required cannabinoids.
Some AVB applications are essentially no-brainers, while others take a bit of knowledge. But with a bit of skill and practice, anyone can master these great options.
Re-Smoke It
Let's start with the easiest way to use your already vaped bud. After one session, likely, you haven't drained the herb dry.
But how many times can you vape weed?
If you want to get your money's worth, fire up your vape a second (or even a third) time until there's no vapor left.
Does smoking vaped weed get you high?
Yes, it does. How much you need AVB to get high depends on how much you drained it while vaping. You could smoke the herb using a pipe, joint, or bong, but just be warned that it won't taste great.
Also, don't be surprised if it's a killer on your lungs.
That being said, you can always resort to this option if you have no other choices. Next are some different ways of recycling buds.
Use it as a Topping
Want to try edible weed but don't have a clue where to begin? Not to worry. Just take the vaped weed and sprinkle or mix it with your favorite food.
Blend it in spreads or sauces, toss it on toast, drop it in a milkshake – whatever you like. As long as you eat the herb, you'll harness its benefits. Keep in mind that fatty foods do a better job of extracting the THC.
Stick with high-fat products like peanut butter if you want to get the most out of your makeshift edibles.
Make Edibles
This is where things get a bit complicated. Again, though, the fact that your dry herb is already decarbed means the most delicate step is out of the way.
While the edibles you can make are pretty much unlimited, the core ingredients are the same. Most AVB recipes call for either cannabis oil or cannabis butter ("cannabutter").
The potency will vary based on the strain's THC level, the leftover cannabinoids, and the carrier's dry herb ratio (oil or butter). Typically, a good balance is 1/4 oz (7 g) to 1/2 cup (125 ml) of oil or salted butter.  Coconut or medium-chain triglyceride (MCT) oil are the best choices for making cannabis oil.
After you've measured your ingredients, place the butter or oil in a saucepan and simmer on low heat for at least 45 to 60 minutes. Larger amounts of herb might need more time.
The aim is to extract the cannabinoids from the AVB into the carrier. You get ABV butter or ABV oil, respectively.
After that, add it to ABV recipes as instructed, spread it on food, or use it as a salad dressing – to name a few. Start cooking or baking with vaped weed.
ABV brownies are a popular recipe for eating ABV. You can also use the oil to make ABV capsules. But if you want to make things easier, search for: Where can I buy weed candy online.
Create Cannabis Drinks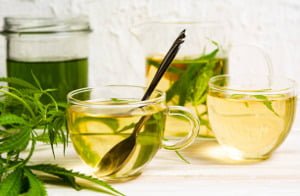 Everyone loves drinks, so why not add a little cannabis to spice things up? This is an excellent alternative for several reasons.
First of all, it's discreet. Nobody's going to question what's in a mug or reusable bottle.
Second, there's plenty of variety. You can toss it in with coffee grounds or tea leaves and make those drinks as usual. Check out our CBD coffee reviews here.
ABV tea is so nice. Alternately, AVB is a great addition to things like protein shakes, milkshakes, and smoothies.
Third, cannabis drinks are easy to make at home. Unlike edibles, there's no cooking involved (aside from vaping, of course). No oils, butter, or simmering on the stove – toss the vaped weed in and enjoy.
Finally, your body digests liquids a lot more quickly than solid foods. This means the THC will hit your system a lot faster than it would with edibles.
Make Tinctures
Out of all the options, this one takes the longest. Like plain oils, you can add tinctures to food and drinks. However, unlike oils, tinctures are flavorless, making them way more versatile and less likely to disrupt the taste of your favorite foods.
Instead of fatty oils, tinctures require the use of clear alcohol. You'll need a product such as Everclear or vodka (90 proof), rather than just any old liquor. Use at least 1/2 oz (14 g) to make a good product.
Take a dark, glass container or bottle and pour the alcohol inside, followed by the AVB. Let it steep, occasionally shaking, for a few hours to a few days. The longer it steeps, the more potent your mixture becomes.
Once you're ready to use it, strain the mixture through a cheesecloth, small strainer, or similar tool. Make sure to store it in a dark container, such as a cupboard or pantry, away from sunlight.
There's no specific rule as to how much alcohol you should use. The less alcohol, the more concentrated your cannabis tincture will be.
Use it As Compost
No, we're not kidding. AVB is a very effective component of homemade fertilizer. If you find that the weed is overcooked or not potent, you can at least put it to good use in your garden. Just make sure you mix it with other things, like dried leaves, fruit remnants, and any other decomposable material.
Storing Your Vaped Weed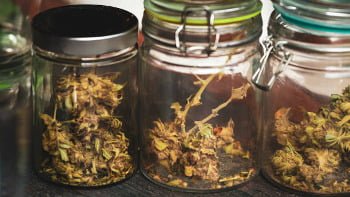 Again, the biggest hurdle when using vaped weed for things like edibles and drinks is that it takes a while to build up a good amount. You'll need a place to store it until there's enough to use. However, the way you store it makes a big difference.
Preserving THC
Most legal cannabis – medical or recreational – comes packed in plastic containers or plastic bags. Many cannabis users are well aware of this, but if you need proof, check out a paper published in the U.S National Library of Medicine:
"[THC] decomposes when exposed to air, heat, or light and readily binds to glass and plastic. Therefore, ▵9_THC is usually stored in basic or organic solvents in amber silicate glassware to avoid loss during analytical procedures".
In plain English, this means that scientists make sure to keep cannabis away from plastic to avoid letting the THC decompose. It doesn't mention if the case is the same with CBD, but it's always better to be safe than sorry.
Sadly, very few licensed producers do this, most likely due to glass costs compared to plastic. But that doesn't mean you should cheap out. Invest in a container that seals well, such as a mason jar.
Controlling Humidity
Weed that is too dry tends to crumble and degrade. Too much humidity, however, can lead to dangerous mold. Fortunately, controlling humidity is super easy.
Most head shops sell tiny packets, which automatically add or remove humidity inside a sealed container. Just drop them in and let them do their thing. One very famous brand is Boveda, and it's worth dropping a few extra bucks to protect your fresh herb or vaped weed.
Sources
Sources:
https://www.fda.gov/newsevents/publichealthfocus/ucm484109.htm
https://www.ncbi.nlm.nih.gov/pmc/articles/PMC3570572/
What to Do with Vaped Weed?
You can use Vape Weed for:
Re-smoking
Toppings, Edibles, and Drinks
Making Tincture
Compost
How to make Edibles with Vaped Weed?
The variety of edibles you can make with vaped weed is unlimited.
Add the AVB to oil or butter and simmer it on low heat in a saucepan.
Add the cannabinoid-infused oil to your recipe.
How to Know when Vaped Weed is done?
If there are no green specks left and you just have a dry brown powder, you're done vaping. But you can use this AVB as described in this post.