Updated on September 15th, 2023
In this Sagely Naturals Review, we compare this American company, based in California, with the best CBD retailers in the world. Read on if you want to know what rating we gave them.
With two product lines based on skincare and topical application, they are a fresh breeze in the CBD retail business. The only oral products they offer are two different types of soft gel capsules. The other products in their unique product line are all CBD oil skincare.
With their high-quality products and specific product line, they are like a fancy online CBD boutique. Check out the great CBD skincare offers in our Avid Hemp review, though.
We do reviews because many of our readers ask us what CBD products to buy. And indeed, only smart people base their cannabidiol purchases on authoritative CBD reviews.
iDWeeds does NOT sell CBD (Cannabis) merchandise. We compare products from trusted brands based on potency, value, and consumer satisfaction. As CBD demand creates a flood of shady scam sites, our mission is to prevent dissatisfaction and keep you from consuming a low-quality, contaminated product.
When you order from one of these links, we may receive some compensation. Nonetheless, our reviews are honest, fact-based, and verifiable, thanks to our transparent testing procedure. See our full notice.
Sagely Naturals Product Line
Relief + Recovery
Tranquility
Certificate of Lab Analysis
Since all Sagely Naturals products are quality tested by an independent third party lab they ensure you get the best product possible. Hence a Certificate of Analysis is available on their homepage.
Click on a product that suits your needs and go to the order page.
Cannabinoid Profile Sagely Naturals Relief & Recovery Capsules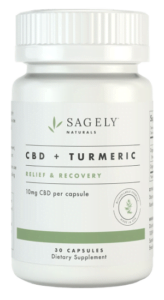 The cannabinoid profile of Sagely shows that the R & R gelcaps contain pure CBD and not full-spectrum cannabinoids as advertised. It is on the contrary just isolated CBD, as you can see from the pie-chart.
10mg per capsule is not enough to maintain your mental and physical homeostasis. The recommended daily maintenance dosage is 20-25 mg, so you'll have to take at least two a day.
Cannabidiol Life has higher potency capsules, but as you can see from our Cannabidiol Life capsules review, we no longer support them, due to poor customer service.
With 30 soft gel capsules per container, the total CBD amount per container is 300 mg CBD. In addition to pure CBD, these soft gels also contain several other healthy compounds like turmeric, black pepper, potassium bicarbonate, vitamin E, gum acacia, and more.
Besides capsules Sagely focuses mainly on CBD oil skincare. So, if you are looking for a 1000 mg CBD oil review visit our reviews page.
Alt
Hemp Oil Benefits for Skin
The topical application of CBD is one of the lesser-known application methods. But, for certain purposes, it is not less effective. For example, localized pain in joints, headaches, etc. can be treated very effectively with CBD topicals.
Massage CBD cream into the skin of your cheeks, forehead, and neck to inspire feelings of tranquility and relaxation, and it should even be able to relieve mild stress and anxiety. CBD is nutrient-rich and can feed your skin and restore its homeostasis.
How to Use CBD Skin Care?
Clean your skin. Liberally apply the hemp cream to your skin. Soak a towel in hand-warm water and lay it on your skin for about a minute. After that, wipe off the cream with a second towel or washcloth.
Moisturize your skin. Wash your face with warm water. Liberally apply the hemp cream to your skin and gently massage it in for at least one minute.
Acne treatment. The best way to use CBD cream for acne is to combine the methods mentioned above. First, moisturize your facial skin, gently massaging in the CBD cream, and then steam and clean your face with a hot towel as described above. Depending on the severity of the acne, repeat this procedure one or two times a day.
Coupon Code Discounts
We managed to negotiate big CBD discounts for our visitors. Enjoy our gifts!
[cp_info_bar id="cp_id_acf73″]-Click here for the Sagely Naturals 10% OFF code
-Plus many more inside your inbox, like a Savage CBD coupon with 15% off. Enter your email address below[/cp_info_bar]
Sources
Sources:
https://www.fda.gov/newsevents/publichealthfocus/ucm484109.htm
https://www.healthline.com/health/hemp-oil-for-skin
https://www.gq.com/story/how-topical-marijuana-can-save-your-skin
[/av_one_full]