Updated on January 4th, 2022
In this Muscle MX CBD oil review, we discuss the company, its products, and what they stand for. We compare the cannabinoid and terpene profiles with other companies and give them an iDWeeds Rating.
Muscle MX is a young company based in Salt Lake City, Utah. They specialize in CBD-infused muscle balms for athletes and fitness enthusiasts.
With other brands, topicals are usually just one item of the product line. By balancing the best of modern innovation and age-old remedies, Muscle MX has developed innovative ways of using cannabis to nurture, enhance, and improve lives.
Review Summary
iDWeeds does NOT sell CBD products. We compare products from trusted brands to deliver you results based on strength, price/value, and user satisfaction. As the CBD market is flooded with shady scam sites, avoid disappointment and the risk of a contaminated product.
When you order from one of these links, we may receive some compensation. Nonetheless, our reviews are honest, fact-based, and verifiable, thanks to our transparent testing procedure. See our full notice.
Certificate of Lab Analysis
All Muscle MX products are quality tested by an independent third party lab to ensure you get the best product possible. A certificate of Analysis is available on their homepage.
Click on a product that suits your needs and go to the order page.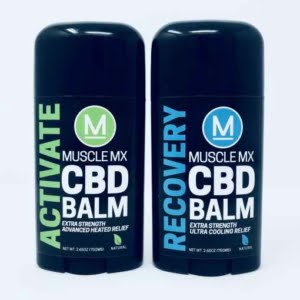 Сannabinoid Profile Muscle MX
The CBD oil used in Muscle MX products contains only a small amount of four cannabinoids besides CBD. However, the terpene profile is outstanding. The variety of terpenes present in small amounts is good.
They have two fast-absorbing balms infused with vibrant CBD. Unfortunately, they do not offer any CBN products.
Activate CBD Balm. Muscle MX formulated this CBD Workout balm, especially to heat up muscles before exercise. Use Activate on your muscles, joints, and tendons before any activity for maximum performance.
The maximum amount of CBD is only 350mg.
Recovery CBD Balm. Muscle MX formulated this CBD workout recovery balm to cool achy muscles and provide relief after overexertion. Use Recovery after any activity or to treat general pain and discomfort.
Just like the former, the maximum amount of CBD is only 350mg.
This balm will help you get back into the game for maximum performance. Look for hemp oils on our hemp CBD oil reviews page.
CBD Fitness
Inflammation is the leading cause of pain for athletes and workout enthusiasts. When you want to grow muscle, you need to push yourself and your body to the limit. Just mildly exercising or training without any soreness does not increase your muscle base.
When you exercise to become faster, healthier, and better, you start feeling your muscles. While muscle soreness is a sign that your muscles are growing, it also indicates some inflammation in these muscles.
Green Garden Gold reviews show a better line of products for muscle ages and sports, so you might want to check them out before buying pain cream. Your immune system generally handles minor inflammations, but there is a fine line between muscle growth and chronic muscle inflammation.
It is all too easy to overdo it to pursue athletic success, which can cause severe muscle inflammation that you need to treat. With regular overexertion, many of these inflammations can become chronic.
As CBD is one of the best anti-inflammation supplements on the market, it is indispensable for risk reduction in athletic and fitness activities. Just choose a good brand.
CBD Dosage for Pain
Pain, it's all in the game. When it comes to fitness and workouts, this is unfortunately true. Traditional 'big pharma' pain meds are often ineffective for chronic pain and nasty side effects.
The most significant potential side-effect is an addiction with long-term use. We've all heard about the major opioid epidemic and addiction problems with other painkillers…
CBD is not addictive and has no side effects other than a dry mouth when using high dosages. Your body does not develop tolerance to cannabidiol, making it an ideal supplement for athletes and workout fanatics.
The dosage for pain varies from 40 to 100 mg per day, divided into two or three doses. The exact quantity depends on the amount of pain. People usually test different dosages to see what works best for them.
Where to Buy
The safest and most affordable way to buy is straight from the manufacturer online. There can be knock-offs and scams. Make sure you get the real deal at the lowest price. Click on the button below to go straight to the official website, where you can apply our coupon code discount.
Coupon Code Discount
Enjoy 20% off with promo code: RUNMX20
Sources
Sources:
https://www.fda.gov/newsevents/publichealthfocus/ucm484109.htm