Updated on August 12th, 2021
Cannabis for dogs may seem like a strange idea, but it's not very far-fetched (no pun intended). Like humans, animals also suffer from similar – if not identical – health problems. Many of which cause problems like pain, nausea, and fatigue.
Understanding the benefits of cannabis for dogs will help owners save money on expensive vet bills and help make their dogs' lives more comfortable.
Understanding Cannabis for Dogs
Again, it's entirely possible to use cannabis for dogs; however, we understand that owners might be nervous about trying this. For many of us, pets are a part of the family, so it's important to address why using cannabis in animals is safe.
Why Does Cannabis Work for Dogs?
Cannabis for dogs works because, despite our physical differences, dogs and humans have similar internal systems. Both humans and dogs have natural cannabinoids (called endocannabinoids) inside them. There are receptors for these compounds throughout the body, including the organs, glands, brain, connective tissues, and even immune system cells.
When external cannabinoids like THC and CBD for pets enter their bloodstream, these receptors pick them up. In turn, they help with things like pain relief, nausea, mood, and immune response – to name a few.
Dogs have the same receptors functioning in an identical system. Pet owners need not worry about harming their dogs with cannabis.
Benefits of Cannabis for Dogs
The advantages of using cannabis for dogs are the same as those that drive people to seek relief the same way.
Cannabis Treats a Lot of Symptoms
The problem with prescription medications is that the pharmaceutical industry designs them to treat one issue. But a dog suffering from multiple health problems or symptoms might need several medical products to experience relief.
Cannabis in the form of THC or CBD oil for dogs offers relief from various issues. These include back pain, neck pain, joint pain, inflammation, arthritis, seizures, fatigue, and gastrointestinal problems.
This makes cannabis a virtual "cure-all" that no pharmaceutical company can provide to date.
Cannabis is Safer
Even the most benign prescription medications carry risks. Some dogs may be allergic to the drugs provided, leading to serious – even life-threatening – complications.
Mistakes can also happen. Simply misreading the directions could lead owners to accidentally provide too much pharmaceutical medicine, leading to an overdose.
Cannabis is Often Cheaper
While a small, one-time prescription may not incur massive out-of-pocket expenses, regularly providing medicine can be pretty costly. For instance, you need to medicate a dog suffering from epilepsy for the rest of its life. Arthritis pain or chronic gastrointestinal issues also require consistent treatment.
Cannabis for dogs can treat these symptoms at a much lower price. Depending on the supplier, it's easy to get a good-sized bottle for less than $100. Considering how small the dose will be, it's safe to say that the investment will last quite a while.
Cannabis for Dog Cancer
Like humans, dogs can develop cancer. To a pet owner, this would be a scary diagnosis. Fortunately, cannabis can help treat the condition's symptoms, either during treatment or as palliative care.
Treatable Dog Cancer Symptoms
While there are plenty of symptoms that CBD can treat, the symptoms associated with cancer and its subsequent treatment are often too intense for cannabidiol.
In cases like these, high THC oils and tinctures will provide the relief dogs need until cancer hopefully clears. You'll find an overview of the best cannabis tinctures here.
The Importance of Combined Treatment
It's important to note that while THC tackles the worst symptoms, CBD has an edge that you can't ignore. Recently, the medical community discovered that CBD is a cancer inhibitor. This can help slow down tumor growth, buying more time for treatment.
Having a combined treatment is also essential because of the "entourage effect". This is a synergistic relationship between cannabinoids and terpenes. When THC and CBD work together, it greatly amplifies the benefits.
Unfortunately, balanced THC/CBD products are not available without a prescription due to their THC content.
When is it Best to Use Cannabis for Dogs?
Considering how CBD is plentiful and easily accessible with or without a prescription, it may not seem necessary to run the risk of making a dog high; however, while there is some overlap, there are some symptoms and conditions that only THC can treat. In other instances, THC is simply more effective.
Sometimes, the issue is too severe for even the best CBD tincture. This often makes cannabis for dogs the only option.
THC-Exclusive Issues
The following health issues are best for THC.
The list is as follows:
Severe pain
Muscle spasticity (exclusive)
Glaucoma
Low appetite (exclusive)
Severe nausea
Severe insomnia
How to Get Cannabis for Dogs – Canna-Pet
Unfortunately, getting cannabis for dogs isn't that easy. Unlike doctors, veterinarians can't issue medical cards to pets; however, there are still options.
When it comes to cannabis-derived products, there are THC, CBD, and balanced options. Unfortunately, THC and balanced (relatively equal amounts of THC and CBD) products are only available with a prescription in most states.
Medical Cannabis Recipients
People with a medical marijuana prescription can buy products for their dogs. Just order the desired product and administer it accordingly; however, keep in mind that dogs' and humans' weight differences are quite broad except for some large breeds.
Keep this in mind when dosing. Do not give a human-sized dose to a dog.
CBD
Cannabidiol (CBD) doesn't need much introduction. We've covered the many benefits of this compound in several posts. CBD's effectiveness in treating and fighting many conditions (without a "high") makes it an excellent choice for many people – and dogs.
Those without a prescription have nothing to worry about. While medical CBD strains are off-limits, pure CBD products are legally available to everyone in all 50 states.
The reason companies can do this is because they extract CBD from industrial hemp – a non-controlled substance. They market and sell CBD as a health supplement rather than medication.
Best of all (unlike medical options), some CBD companies offer products directly designed for pets. As you can see from our Honest Paws CBD reviews, this company specializes only in pet CBD products. This makes administering cannabis for dogs as comfortable and as safe as possible.
Which Cannabis Products are Available for Dogs?
While it might be funny to envision a chihuahua smoking a joint or a vape, this isn't a practical delivery method. Naturally, this leaves three possible options.
Cannabis Oil
Cannabis oil is arguably the most versatile option. The best cannabis oil is composed of oil infused with THC and CBD. The carrier oil is perfectly harmless, usually coconut oil or medium-chain triglycerides (MCT oils).
Simply place the desired amount directly into the dog's mouth or mix it with their food.
Don't panic if the animal doesn't show signs of relief right away. The most significant disadvantage with edibles is that they can take anywhere from 30 minutes to four hours before users (including dogs) feel its effects.
Tinctures
Tinctures are a lot like oils. They come in liquid form but have a few added advantages. While oils are oil-based, tinctures use alcohol as a carrier.
These products are available with flavorless options and can easily dissolve in any liquid. This will make it a lot easier to administer since chances are dogs won't be too fond of the "hempy" taste associated with oils.
But perhaps the most glaring advantage is that tinctures stand out from edibles in terms of efficiency. While oils and similar products can take hours to work, human patients report that tinctures take effect in as little as 15 to 30 minutes.
Topicals
Topicals are handy for specific conditions. These are cannabis-infused creams or balms intended for direct application to the skin. Unlike edibles, they work pretty quickly.
If the dog suffers from issues like joint inflammation, acute muscle pain, or arthritis, then topicals are the best alternative for quick relief at the source.
Treats
Dog treats with THC or CBD are popular with both dogs and owners. When you like your gummies (see THC gummies reviews), most likely, your dog likes his treats too. They are the ideal way to treat your dog.
How to Administer Cannabis for Dogs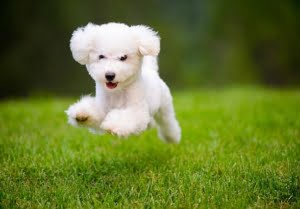 Unlike humans, dogs can't simply talk to us when they feel better or worse. This is why, when it comes to cannabis for dogs, care is essential.
Start Low and Go Slow
"Start low and go slow" is a phrase so common that it warrants its own t-shirt. But that doesn't change the fact that it's the most sound advice new users (or pets) can get regarding cannabis treatment.
There's a good chance that the starting dose won't be enough to provide relief. But this is infinitely better than what could happen if the animal receives too much product.
Granted, this is a more significant concern with the mind-altering THC than its non-mind-altering counterpart, CBD. Too much tetrahydrocannabinol could cause adverse effects (highs).
Watch Closely
When a dog is unwell, it's typically relatively easy to see. Keep a close eye on their behavior after each dose. If they show an increased level of comfort, chances are they've received the right amount.
For cases like nausea, digestion problems, or seizures, the difference will be apparent once the dog shows a reduction in these symptoms.
| mg / day | Dogs under 35 kg (75 lbs) | Dogs above 35 kg (75 lbs) |
| --- | --- | --- |
| Day 1 to 4 | 10 mg or more | 15 mg or more |
| Day 5 to 9 | Increase to 15 mg, if necessary | Increase to 25 mg, if necessary |
| Day 10 to 30 | Increase to 20 mg, if necessary | Increase to 35+ mg if necessary |
| Day 30 + (if dose is not enough) | MAXIMUM dose is 1mg/k, therefore maximum dose in milligrams is equal to the dog's weight (i.e. 20 mg/day for a 20 kg dog) | Dosage can be increased if needed. However, do not exceed 1 mg/kg each day. |
Is Overdose Possible With Cannabis for Dogs?
We use the term "overdose" very lightly here. While animals can't ingest a deadly amount of cannabis, the amount would have to be substantial. Exercise common sense by dosing slowly and ensuring that the product is stored safely out of reach of pets or children.
Keep in mind that this risk is typically associated with THC products. CBD is perfectly safe. The only chance is if the dog reacts badly to other ingredients in the mixture.
Signs of Overdose
Like humans, dogs can get too high. Unfortunately (again), they can't tell us if they feel this way; however, the signs are apparent.
If a dog takes too much THC, it will appear very lethargic. They may not be able to stand up or coordinate themselves properly.
Another sign of overdose is (ironically) lack of appetite. Humans can also experience nausea after too much THC – an experience often referred to as "greening out".
If the pet displays any of these symptoms, it could be a sign of THC toxicity. In this case, take the dog to a vet immediately, as the unwanted high could last for days.
What is the Best Cannabis for Dogs?
There are a lot of suppliers who offer cannabis for dogs. Unfortunately, not all of them are reputable. Choosing the right product is obviously essential, as the animal's safety could be at stake.
iDWeeds partners with various reputable distributors and researches the best, most reliable products available. In turn, consumers don't have to take any chances with their dogs' safety.
Feel free to browse our list of recommended products and leave a comment with any questions or concerns you may have.
Global Animal Pharmaceutical Spending
Did you know that in 2016 worldwide we spend 30 BILLION Dollars ($30,000,000,000) on animal pharmaceuticals, up 87.5% since 2006?
And, did you know that despite the insane increase in Big Pharma spending chronic disease mortality in dogs has risen dramatically since 2007?