Updated on January 4th, 2022
Hemplucid is a hemp CBD retailer and producer based out of Utah. Founded in 2016, Chase Hudson (President) and Tayln Stratton (CEO), Hemplucid's stated goal has been to help customers "experience life again." We will put them through the test and provide you a clear picture based on our findings and other Hemplucid reviews.
Being highly customer-focused, as the topic of community comes up frequently when they describe themselves. To build and maintain this goodwill, Hemplucid uses the best extraction methods with only the finest industrial hemp available.
The company is fully compliant with all applicable laws and regulations. They also subject their hemp products to third-party testing to ensure safety and quality.
iDWeeds does NOT sell CBD (Cannabis) merchandise. We compare products from trusted brands based on potency, value, and consumer satisfaction. As CBD demand creates a flood of shady scam sites, our mission is to prevent dissatisfaction and keep you from consuming a low-quality, contaminated product.
When you order from one of these links, we may receive some compensation. Nonetheless, our cannabidiol oil reviews are honest, fact-based, and verifiable, thanks to our transparent testing procedure. See our full notice.
Hemplucid Product Line
Hemplucid offers a wide range of full-spectrum and THC-free products.
Full-spectrum water-soluble CBD, CBD with MCT carrier oil, CBD with Hemp Seed carrier oil, and CBD Vape Drip.
Full-spectrum Wax, Soft gels, gummies, lip balm, CBD body cream, and CBDa body cream
Broad-spectrum Water-soluble CBD, CBD with MCT carrier oil, and CBD gummies.
Full-spectrum CBD for cats and CBD for dogs

Shipping Locations
Hemplucid offers free three-day shipping in the US on orders of $49.95 or more. Also shipping to nearly any other country in the world.
Certificate of Lab Analysis
All of Hemplucids products undergo third-party lab testing with every batch. Hemplucid assigns a lot number for easy reference. 
Cannabinoid Profile Whole-Plant CBD Tincture 1500 in Hemp Seed Oil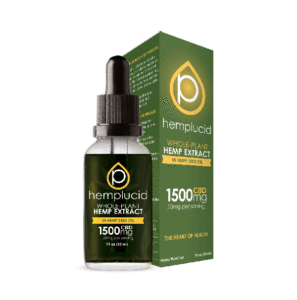 Hemplucid whole-plant CBD tincture has a diverse cannabinoid profile. It contains many other cannabinoids, such as:
The presence of other cannabinoids and terpenes enhances the overall effectiveness of the CBD oil. We call this the "entourage effect".
Hemplucid offers its customers three tincture carrier options. Our favorite CBD for energy and focus is suspended in hemp seed oil (the product we reviewed).
MCT oil is also a good option, as it has its health benefits and won't alter the flavor. Finally, vegetable glycerin allows the mixture to be water-soluble and can be ingested or vaped.
The dropper bottles make dosing easier since people usually consume CBD tincture sublingually.
Benefits
Hemplucid is a natural plant product and contains no artificial colors or flavoring. Keep in mind that color or taste will vary as a result. Hemplucid does not formulate its products for specific therapeutic purposes. The only thing setting them apart is their variety of carrier oils. However, the cannabinoid profiles offer several health benefits.
Additionally, they are the only supplier reviewed so far that offers full-spectrum/whole-plant CBD gummies.
Anti-Inflammatory
CBD, CBG, CBN, and CBC all share anti-inflammatory properties. This makes them potentially helpful for conditions like arthritis or sprains/strains.
Analgesic
CBD is well-known for its ability to reduce pain, as is CBN.
Sleep
Aside from CBD, CBN works well against insomnia.
Antibacterial
Although CBD is not known to have such properties, there is evidence to suggest CBC and CBN have antibacterial/antifungal benefits.
Ingredients
What We (Don't) Like
Hemplucid has quite some interesting products, good cannabinoids, and terpene profiles. But what if you compare it with other brands? Hemplucid vs. American Shaman. How will that play out?
We always recommend comparing CBD brand reviews so that you can avoid scam sites and fake or diluted products. Compare CBDMD vs. CBDistillery, and you'll understand what a good brand should be like.
Product Quality
A significant advantage of Hemplucid's products is their quality. Not only is their hemp GMP-certified, but it is also a proprietary strain bred in-house. Through selective breeding, they created hemp that is high in cannabinoids and terpenes.
The use of CO2 extraction is also impressive since customers receive a solvent-free product. In our Joy Organics CBD review, you'll find another high-quality brand with naturally present terpenes using CO2 extraction.
They stand out because they are one of the few CBD oil producers that offer their customers the choice of carrier.
Versatility for Vapers
Hemplucid may not be vape-focused, but it is nice that they at least kept that niche in mind. Using vegetable glycerin (a common ingredient in e-liquid) creates a hybrid between a tincture and vape juice.
Inhalation is the best choice for immediate relief, while ingestion is ideal for gradual-long lasting effects. Having access to both options in one product is invaluable to many people.
That being said, the high VG content, like we noted in our Savage CBD oil review, will require a powerful device with large-wicked, organic cotton coils.
Hemplucid doesn't sell wax pens. To find the best THC wax pen, please follow the link.
Transparent Bottles
According to Hemplucid's website, they tout the use of clear bottles to represent the company's transparency. While this is a creative way to make their point, it is also the worst way to store CBD.
Light exposure causes cannabinoids to break down rapidly. If those bottles spent time in a lit area (like a warehouse) or direct sunlight for an extended period, the product would lose potency.
Water Soluble Flavor Issues
The water-soluble option is excellent for people who want to add it to their drinks or vape it. Unfortunately, VG has a drawback. It is a flavor carrier derived from vegetable oil, making it highly viscous and sweet.
Although the sweetness is far from unpleasant, it will detract from the taste. Unfortunately, MCT and hempseed oils are not water-soluble, so we cannot fault Hemplucid for that limitation.
Where is Hemplucid Located?
Hemplucid is located at 4844 N 300 W SUITE 202, Provo, UT 84604.
How Many Drops of Hemplucid Whole Plant CBD 1500 in Hemp Seed Oil?
Hemplucid recommends one milliliter (2/3 dropper) as needed. Dosage requirements may vary.
How to Vape Hemplucid CBD Oil?
Hemplucid water-soluble MCT and hemp seed CBD oils cannot be vaped. For vaping use the whole plant CBD vape/drip CBD oil.
Hemplucid Which is the Best CBD to Take for Severe Pain?
Full-spectrum Hemplucid CBD products are the best to take for severe pain since they contain additional cannabinoids and terpenes that amplify the effect.
Topicals are best for localized pain, while capsules or vape tinctures help relieve general pain.
How Much THC is in Hemplucid Whole Plant CBD Oil?
Is there THC in the CBD oil of Hemplucid? Yes, there is 0.1 to 0.2% THC in Hemplucid whole plant full spectrum CBD Oil.
Do you have to give pet CBD vs CBD for humans?
Do you have to give pet CBD vs CBD for humans?
Not necessarily. Pet CBD and regular CBD are in essence the same. However, often the pet tinctures are flavored especially for pets. This is actually a good feature when you see your pet doesn't like the taste of hemp.
Where to Buy
The safest and most affordable way to buy is straight from the manufacturer online. As there can be knock-offs and scams, make sure you get the real deal at the lowest price. Click on the button below to go straight to the official website where you can apply our coupon code discount.
Coupon Code Discounts
We managed to negotiate big CBD discounts for our visitors. Enjoy our gifts!
[cp_info_bar id="cp_id_acf73″]– Click here for the Hemplucid 30% OFF code
– Expires 4-30-20
– Plus many more coupons inside your inbox like this Nuleaf Naturals Coupon, by entering your email address below[/cp_info_bar]
Sources
Sources:
https://www.fda.gov/newsevents/publichealthfocus/ucm484109.htm
https://thesleepdoctor.com/2018/11/27/thinking-about-using-cannabis-for-sleep-here-are-some-things-to-know/
https://remedycolumbia.com/terpenes-for-pain/
https://greenleafmc.ca/blog/terpenes