Updated on December 12th, 2022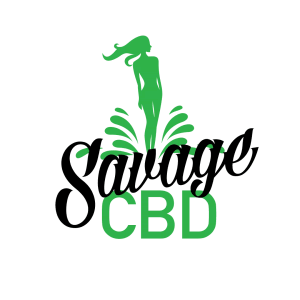 Savage CBD is a California-based retailer specializing in CBD. It is an offshoot of Savage Enterprises and an e-cigarette company founded in 2013 by Chris Wheeler and Matt Winters.
However, once they noticed CBD gaining traction, Wheeler and Winters entered the market in 2016 with Savage CBD. Despite emerging during a time when market saturation was typical, they used their expertise in e-liquid creation and newfound interest in CBD to establish their brand.
Savage CBD is fully compliant with all applicable laws, submit their products to lab tests, and source their hemp from licensed farmers in various U.S. states. Occasionally, they also turn to European sources.
iDWeeds does NOT sell CBD (Cannabis) merchandise. We compare products from trusted brands based on potency, value, and consumer satisfaction. As CBD demand creates a flood of shady scam sites, our mission is to prevent dissatisfaction and keep you from consuming a low-quality, contaminated product.
When you order from one of these links, we may receive some compensation. Nonetheless, our reviews are honest, fact-based, and verifiable, thanks to our transparent testing procedure. See our full notice.
Savage CBD Product Line
Savage CBD has an extensive list of products. Despite having roots in e-cigarettes, the company offers a selection of other options, including flowers and edibles. Most contain full-spectrum hemp, but some contain isolate due to recipe limitations.
Full-spectrum vape oil available in cartridges or disposable "cig-a-like" vape pens.
Shipping Locations
Savage CBD ships to Canada and all U.S. states, except Washington. They don't ship internationally like Lazarus Naturals.
Certificate of Lab Analysis
All products undergo third-party lab testing with every batch. Each is assigned a lot ID and QR code for easy reference. 
Cannabinoid Profile Savage CBD
Savage CBD produces CBD vape juice made from isolate among its many products, while the tincture (as the name indicates) contains full-spectrum hemp extract.
Does CBD oil have THC? In the case of Savage, yes, it does. See the Savage cannabinoid profile below.
Savage CBD does not indicate that its hemp is organic. However, it is advertised as non-GMO, pesticide-free, and tested for heavy metals, microbes, and other contaminants. 
The pet spray they offer is a very innovative way of giving your pet CBD. But is it the best CBD oil for pets?
Cannabinoid Profile Savage CBD Vape Juice
The vape juice contains pure CBD in 30ml bottles at 250mg, 500mg, and 1,000mg, with no additional terpenes or cannabinoids. 
Savage suspended the isolate in a standard mixture of:
60% vegetable glycerin (VG) 

40% propylene glycol (PG)

Natural and

artificial flavors
This allows you to use the juice in any large e-cigarette tank.
Cannabinoid Profile Savage CBD Full-Spectrum CBD Tincture
The tincture is made with:
Full-spectrum extract, suspended in

A mixture of MCT oil, hemp seed oil, essential oils

Terpenes.
CBG and CBDV were the only other cannabinoids detected in the tincture, so it's basically broad-spectrum. The lab did not test terpene content.
Cannabinoid Profile Savage CBD Cartridges & Disposable Pens
The full-spectrum potential is evident in the CBD vape cartridges and disposable pens. Aside from CBD, tests show:
CBG
CBDV
CBC
CBN
CBL
0.01 to 0.02% THC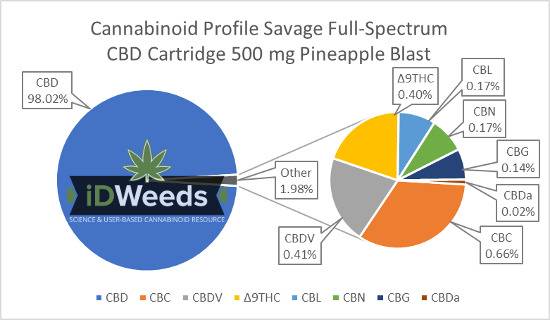 Cannabinoid levels are relatively constant for cartridges and vape pens, with variations being a fraction of a percentage. Terpene content was not tested, while a proprietary blend of terpenes is added.
As we don't like cannabis secrets at iDWeeds, we had to find out.
I asked the Savage folks about this specific terpene blend of the Pineapple Blast CBD Cartridge 500mg. Here's what we got:
Linalool
Myrcene
Pinene
Limonene
Caryophyllene
In our rating of the best CBD oil capsules, Savage scores rather high.  But if you want to know how Savages tincture ranks, read our CBD tincture reviews.
Eight useful cannabinoids and five super-healthy cannabinoids are not bad. Still, in our American Shaman CBD review, you see that CBD oils can have many more terpenes and be water-soluble for easier consumption. It definitely doesn't hurt to compare CBD brands, reading independent reviews.
In our hemp oil reviews, you can find the most popular CBD brands.
Benefits
Pain
CBD has always been seen as an effective source of pain relief. Individuals with various conditions, such as chronic pain, migraine, and arthritis, are just a few examples of people who find comfort with cannabidiol.
Sleep
People often consume CBD products to help with insomnia or experience better-quality sleep. However, people also use CBD to improve focus, making it difficult to determine whether or not CBD or the terpenes and other cannabinoids are responsible.
Focus
A lot of anecdotal evidence suggests that CBD can help improve mental clarity and focus. CBD oil for concentration is a hot item lately.
Anxiety
Anxiety is something many people treat with cannabis. However, those who use THC risk exacerbating those symptoms due to the paranoia that some strains can trigger. Since CBD does not cause that intoxication, many find that it helps alleviate anxiety.
The best CBD brand for anxiety, therefore, doesn't contain THC but anti-anxiety terpenes.
What We (Don't) Like
Savage CBD's diverse product line ensures that there is something for everyone. A lot of expertise and effort goes into these items – especially the vape products. Still, there are a few points that they can address.
High VG Vape Juice
Savage CBD offers an excellent vape liquid.  Experienced vapers love e-juices with high VG content.
However, higher vegetable glycerin levels pose a problem. Those familiar with e-cigarettes know that VG is highly viscous, meaning it is thicker than PG. Consequently, it requires larger, more advanced coils with organic cotton wicks instead of the synthetic wicks of cheaper devices.
Another problem with high-VG liquids is that they accumulate residue or "gunk" relatively quickly, causing users to burn through their coils rapidly.
VG is also preferred by "cloud-chasers" due to its tendency to produce enormous, robust billows of vapor. While fun for tricks, it makes discreet vaping impossible.
Vape Pen Compatibility
Individuals who already own a simple 510-threaded vape pen can use the company's oil cartridges, which is a huge money-saver.
That being said, Savage CBD recommends that consumers use a pen that has airflow functionality, which is not always available in cheaper, simple devices. However, it will only affect the experience, not the efficacy or quality of the vape.
Those looking for a good, inexpensive, small vape pen with airflow should check out the Hermes 3 vape pen.
Isolate Vape Juice
It is not uncommon to make vape juices with CBD isolate. In all fairness, most companies do not use full-spectrum. However, this does not make the situation better.
The least Savage CBD could do is, infuse their vape juice with terpenes to expand its therapeutic potential. As it stands, plain isolate makes it a huge missed opportunity for what is otherwise a great-tasting premium e-liquid with an excellent selection of flavors.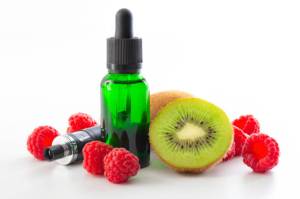 Terpene and Cannabinoid Content
It is excellent that Savage CBD subjects its products to third-party tests and uses full-spectrum extract in its tinctures and many other products. However, lab tests show no additional cannabinoids or terpenes in the full-spectrum tincture.
The vape pens and cartridges, on the other hand, have a perfect and robust cannabinoid profile. So individuals looking for those other compounds can add vape products to their CBD regimens.
It's also important to note that using hemp seed oil adds additional nutrition that is not common with most tincture manufacturers.
Not Organic
Organic hemp is something many consumers look for – and for a good reason. Based on the information provided on their website, Savage CBD's hemp is non-GMO but not organic.
Gummy Strength
Savage doesn't have CBD gummies 1000mg; the only package size contains just six gummies with 300 mg CBD in total. Not much. For severe medical conditions or a recreational 'high', you can take weed gummy bears.
Is Savage CBD Good?
Savage CBD is good if you want great flavor options and a vast selection of products, but its lack of cannabinoids and terpenes affects product performance.
What is Savage CBD?
Savage CBD is a Californian hemp CBD retailer that offers a variety of CBD items, including vape products, edibles, capsules, drinks, and topicals.
Is Savage CBD Full Spectrum?
Some Savage CBD products are full-spectrum, while others are made with isolate.
How Much is a Military Discount on Savage CBD?
Savage CBD used to offer a 30% military discount. However, this information is from external sites, and links to the discount information on Savage CBD's website lead to a dead page. Their FAQ section also makes no mention of a military discount.
How to Use Savage CBD Pen?
To use a Savage CBD pen, simply place it in the mouth and inhale to vaporize the oil. Discard once empty.
What is Savage CBD Oil Made Of?
Savage CBD Oil contains full-spectrum hemp extract, essential oils, and terpenes. It uses hemp seed and MCT oils as carriers.
Where to Buy
The safest and most affordable way to buy is straight from the manufacturer online. As there can be knock-offs and scams, make sure you get the real deal at the lowest price. Click on the button below to go straight to the official website where you can apply our coupon code discount.
Consumers from Nebraska, Idaho, South Dakota are not permitted to purchase CBD products. Consumers in California are not permitted to purchase edibles which contain CBD.
Coupon Code Discounts
We managed to negotiate big CBD discounts for our visitors. Enjoy our gifts!
[cp_info_bar id="cp_id_acf73″]-Click here for the Savage CBD 15% OFF code
-Plus many more discounts inside your inbox, by entering your email address below. Click here for a Nuleaf Coupon.[/cp_info_bar]
Sources
Sources:
https://www.fda.gov/newsevents/publichealthfocus/ucm484109.htm

https://cannacon.org/15-terpenes-cannabis-explained/

https://www.leafly.ca/news/strains-products/how-to-use-cbd-marijuana-for-sleep

https://linxvapor.com/products/hermes-3