Updated on June 25th, 2022
Although THC skincare is relatively new, skin creams are not. Oils, balms, and lotions were an integral part of medical practice in ancient societies.
Just like today, those concoctions provided relief for a variety of skin and muscle issues. Of course, thanks to THC infusion, creams have become much more effective.  Commonly known as "topicals," the focal nature of THC skincare allows people to address their problems at the source.
Individuals looking for an alternative to edibles or smoking/vaping THC should consider THC skincare.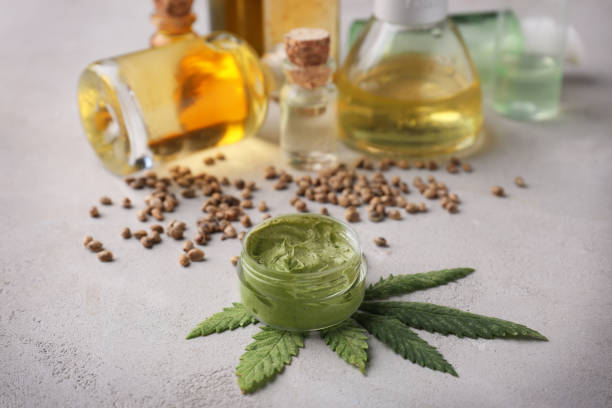 What is THC Skin Care?
"THC skincare" refers to several different topicals. They sell as lotions (creams), balms, salves, oils, and bath salts. While they vary, the common denominator with these products is their absorption through the skin.
Producers design some products to mimic specific strains. To do this, manufacturers copy the terpene and cannabinoid profiles. This helps guide buyers who are looking for particular benefits.
THC skincare products are mainly sold through dispensaries in Canada, while you can also find CBD skin care in shops of major beauty chains in malls and around town.
Lotions
The term "lotion" can be somewhat confusing. Many people and companies use the term interchangeably, referring to balms and even oils as "lotions". For clarification purposes, we will refer to lotions as a specific product.
The defining features of lotions are a matter of the content. Aside from being infused with THC, they typically contain moisturizers.
When it comes to THC skincare or beauty products containing CBD oil, these additions provide no medicinal value. They are simply a bonus.
Due to these extra ingredients, lotions are more diluted than other topicals. They are meant to be spread over large areas. Users with severe pain or who need localized relief should opt for a different topical.
Balms
Another THC skincare option is a balm. What differentiates balms from their other sticky counterparts is that they are typically thicker. They may have a jelly-like consistency.
Balms also differ in terms of application. While lotion, for example, is meant to cover large spans of skin, a balm works with precision. Users apply a small amount to the affected area.
This makes balms an excellent choice for severe, localized pain.
Salves
Conventionally, people use salves to treat skin damage or irritations. For instance, topical antibiotics (i.e., Polysporin) can fall under this category.
Salves are by far the most robust option. They are highly concentrated, doing an excellent job of stopping localized pain.
Another advantage of salves is that they are not as messy as other THC skincare products. They also absorb more efficiently. An alternative to THC creams would be CBD cream, which people usually use for milder pain.
Oils
THC skincare oils are a lot like conventional massage oils. They combine THC with a carrier oil and – often – other essential oils. Coconut oil is a popular carrier, but there are many potential options.
Medicinal cannabis oils are helpful because they work well on rough skin, such as knees or elbows. Consequently, they are effective against arthritis pain. These also double as massage oils, which are pretty relaxing when infused with THC.
Bath Salts
THC skincare is not limited to topical mixtures. Users can experience the same effect from bath salts. THC bath salts are regular bath salt mixed with cannabis crystal you can dissolve in hot water.
Soaking in a bath filled with these salts provides effective generalized CBD similar pain relief. Recreational users can also enjoy powerful relaxation.
CBD Creams & Salves
There are also CBD infused creams for arthritis. Generally, they provide a relaxing experience and help with local pain as well. The entourage effect of the added cannabinoids is more significant when there are more of them, so they can amplify some of each other effects and suppress some other effects.
THC Skin Care Medical Benefits
THC skincare is highly customizable and easy to practice. While there is plenty of prescription and non-prescription counterparts, adding THC makes them undeniably better.
An interesting thing about these topicals is that they do not just treat symptoms. Depending on the condition, regular use could lead to improvement. Regardless, there are benefits for everyone, healthy or ill.
Pain
 The issue of pain management already received mention; however, it goes much deeper than that.
The term "fast-acting" is a common buzzword in over-the-counter medicine commercials. From heartburn to headaches, speed is critical. People want relief quickly.
Topicals work well because they provide fast pain relief, exactly where it is needed. The THC provides an added advantage that conventional products do not offer. But you can also use CBD oil with THC for pain management, especially for chronic and aching pain.
One thing that attracts users, however, is the fact that topicals are non-psychoactive.  Many people who use cannabis for pain (like THC-infused gummies) are put off by the "high" it creates when smoked or ingested. Since the THC never enters the bloodstream, users experience no intoxication.
Inflammation
One particular culprit is arthritis. This condition creates painful swelling and soreness in the joints.
Of course, the focal nature of this problem makes it a prime candidate for THC topicals. But likewise, people use CBD for arthritis. The catch here is that inflammation is what causes the pain. Topicals help provide immediate pain relief and also address the underlying cause.
Surface Damage
THC skin care lotions and salves show promise to boost the healing process and reduce pain. These products work well against burns, cuts, and scrapes. Their anti-inflammatory properties also make these ointments excellent at relieving itchy bug bites.
Some salves or creams might have anti-bacterial properties (depending on the strain and terpenes); however, keep in mind that not all of these products work with open sores or cuts. While the THC content is always beneficial, some additional ingredients might not suit free skin.
Items intended for wounds will be marked as such. Check product directions carefully.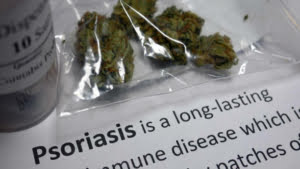 Psoriasis
THC skincare products also help treat psoriasis.  To call the condition unpleasant – both physically and aesthetically- is a massive understatement. Large groups of skin cells build up together, leading to itchy, sore, red patches.
With no known cure, the only hope for patients is to mitigate the symptoms. Topicals, once again, hold the key. One study revealed that cannabis inhibits the growth of excess skin cells.
Not only will cannabis help with discomfort, but it can also literally impede psoriasis altogether.
Once again, THC skincare products show promise as more than a "Band-Aid solution".