Updated on June 25th, 2022
Asthma is the most common respiratory disorder. It affects approximately 10% of people worldwide. CBD oil for asthma brings relief for many people. It was even prescribed and available in US pharmacies before the 1930's.
According to the CDC (Centers for Disease Control and Prevention), the number of people with Asthma continues to grow.
Asthma symptoms come in waves called asthma attacks. These attacks can be triggered by food, smoking, pollution, allergies etc. Although people of all ages have asthma, it mostly starts during childhood.
Every year, worldwide, over a quarter million people die from asthma. Asthma is an atopic disease, where an allergen can induce clinical airway inflammation, bronchial hyperresponsiveness, and reversible obstruction of airways.
According to recent estimates, asthma affects 300 million people in the world and more than 22 million in the United States. (Medical News Today)
The rise in asthma could be caused by an increase in airborne pollens due to climate change, according to Healthline.com. Energy proofing of buildings and urban air pollution could be the reason asthma is on the rise but, overprescription and use of antibiotics could be culprits as well.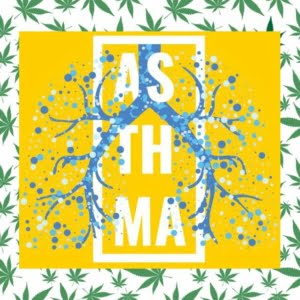 Hemp Oil Cures Asthma
For asthma patients with severe symptoms, cannabidiol should be the obvious choice. Its efficacy has been proven in lab tests and clinical trials and as already mentioned, it was commonly prescribed by doctors for asthma before the cannabis prohibition that started in the thirties. So, why would it be bad now all of a sudden or why wouldn't it work anymore?
Besides for Asthma, people use CBD for the treatment of pain, anxiety, sleep disorders etc.
The reviews described below and listed in the review section are self-explanatory, but the number of success stories on the internet is overwhelming. Then again, taken into account the negative long-term side effects of regular asthma medication, it is no longer surprising.
Laboratory Studies
A 2005 study on guinea pigs found that endogenous cannabinoid receptor agonists inhibit the activation of C fibers via cannabinoid CB2 receptors and maxi-K+ channels in the airways of guinea pigs. Another study on guinea pigs in 2008 concluded that the activation of cannabinoid receptors prevents an antigen-induced asthma-like reaction in guinea pigs.
A 2012 review on cannabinoids found that the activation of CB1 receptors on bronchial nerve endings causes reduction of resistance in the airways by acting on the airway smooth muscle and may be beneficial in treating airway hyperreactivity and asthma.
In 2015 scientists carried out a study on rats with CBD treatment. They demonstrated a protective effect of CBD upon inflammatory response in an animal model of asthma.
Clinical Studies
Already in 1978 scientists carried out a clinical case study amongst five females with asthma using THC treatment. Three conclusions could be drawn from this clinical study:
THC produces bronchodilatation (reduction of resistance in the airways)
It kept the patients in a steady state and increased the peak expiratory flow rate (PEFR) and forced expiratory volume per second (FEV1)
The rate of onset, magnitude, and duration of the bronchodilator effect was dose-related.
Preclinical studies in 2011 suggested that allergen exposure specifically activates the endocannabinoid system (ECS) related to the lungs in patients with allergic asthma.
Anecdotal studies
Asthma Medication side effects
For severe asthma, Corticosteroids are often used. Although short-term side effects are relatively uncommon, usage for many years could cause long-term side effects.
Long-Term Side effects:
High blood pressure (hypertension)
Diabetes
Fragile bones (osteoporosis)
Weight gain
Increased infection risk
Eye disorders (cataracts and glaucoma)
Thinning of the skin
Sensitivity (bruising easily)
Short-Term Side effects
The inhalation of corticosteroids is generally well-handled by the human body in the short-term. There are virtually no short-term side effects.
CBD Dosage for Asthma
After having published so many articles about medical conditions, it goes without saying that the dosage of CBD depends mostly on the severity of the condition. Big Pharma medication needs to be specifically dosed and prescribed by a doctor, because of the often dangerous side effects and overdosing risks.
In this respect, cannabidiol has no negative side effects and you cannot overdose it. Therefore the need for an individual tailormade dosage prescription based on the subjective assessment of a doctor is not needed. In fact, CBD is so harmless that the FDA has classified it as a supplement.
The reports of people that have used CBD oil for Asthma in a mild form range anywhere from 30mg to 40mg daily in two or three takings. People with severe asthma symptoms have told us they use between 60mg and 80mg daily and sometimes even 100mg.
Once you start using cannabidiol, you will start feeling the subtle effects much better after a while. You will know whether or not you need more or if you had enough when you experiment with different dosage levels and the number of intakes a day. There is a slight resemblance to coffee in this respect.
Success Stories of Asthma Patients
We have carefully collected CBD testimonials for this particular condition to serve as proof and inspiration to others. Do not hesitate to record your own experience and share it with us so we can add it to this list and help thousands more patients.
Overview of Scientific Studies and Reports
If you are interested in the medical proof and not scared of reading through some professional medical jargon, check out the studies below.
Scientific Research Studies on Asthma