Updated on August 24th, 2023
CBD for Anti-Aging is gaining more recognition because it is a natural way to combat signs of aging and even revert them. People become more aware these days and often would like to avoid using chemicals -which are usually used in regular skin care products- to keep looking young a long as possible.
According to the PRB the number of Americans over 65 probably doubles by 2060.
While from the age of 25, you can get signs of aging, early on these signs predominantly concern the skin. The first symptoms of aging are age spots, sagging skin, dull skin tone, lines, and wrinkles, dry skin, thin skin, and easily bruised skin.
According to a new Groupon study the average American women spends as much as a quarter of a million dollar on skin care in her lifetime.
Three Reasons for Skin Aging
Reduction of Collagen levels. Collagen provides most of all firmness to the skin. When we age our skin becomes less firm.
Reduction of Oil production. Skin glands produce less oil as we age. We, therefore, get a dryer skin when we become older.
Reduction of Elstin levels. Elastin provides most of all elasticity to the skin. Consequently, when we age our skin becomes less elastic.
CBD Anti-Aging
 7 Anti-Aging Properties of CBD
Antioxidant and Neuroprotectant
CBD mitigates aging by reducing brain neuron inflammation. It also reduces oxidative stress caused by brain trauma and stroke.
CBD mitigates aging by improving memory and cognitive functions.
CBD reduces the impact of stress and prevents or mitigates anxiety. This will reduce the effects that stress and anxiety usually have on aging people.
CBD mitigates aging by making you sleep better. An improved REM sleep also prevents diseases like Alzheimer's and Parkinson's.
CBD protects your skin against the effects of the sun, smoke, pollution etc. Cannabidiol also improves acne and other skin conditions.
CBD cures inflammation. Chronic inflammation is believed to be a contributor to many aging diseases like diabetes, arthritis, neurodegenerative disease etc.
CBD relieves pain, anxiety, depression, inflammation and much more. It therefore very noticeably improves the quality of life, reducing aging effects.
Laboratory studies
As early as 1998 researchers proved that cannabidiol has potent antioxidant properties. CBD  reduced Glutamate toxicity levels in rats.
Researchers mention in a 2009 study that research (recent for that time) indicates that the skin has its own endocannabinoid system (ECS). Their study leads them to believe that disruption of the delicate balance in this system might facilitate skin problems. And because other scientists have long proven that CBD can restore balance in our ECS, it is not strange that we see so many anecdotal reports of CBD having a positive effect on skin problems and aging.
Aging comes with inflammation in the brain and we see that it is in the background of a lot of diseases – Dr. Gary Wenk, Professor of Psychology/Neuroscience
Medical researchers in 2014 determined that CBD behaves as a highly effective sebostatic agent. In other words, it has a positive effect on human sebaceous glands, that secrete an oily substance called sebum that lubricates and waterproofs the skin.
A few years before that, scientists made a link between the sebaceous glands and the development of acne. Consequently, this explains the positive effects of CBD reported by many people on acne.
Clinical studies
Unfortunately, there are no clinical trials done yet on the anti-aging effects of CBD. Because aging is a process that takes many years and signs become visible at different ages, it is, of course, a difficult set-up for clinical trials.
However, researchers have analyzed the therapeutic effects of prolonged cannabidiol treatment. They reported that CBD was well tolerated and had no side-effects or cognitive impairments.
The overabundance of Anti-Aging Products
While all kids wish to grow up as quick as possible, once they have grown up they wish to stay young forever. This wish drives the multi-billion dollar anti-aging business like you wouldn't believe it.
But do all these products work? Not all of them. But more importantly, even, some might actually harm us. So, be careful with what you try and stay away from chemically produced, unnatural products.
So far, the anti-aging pill has not yet been invented.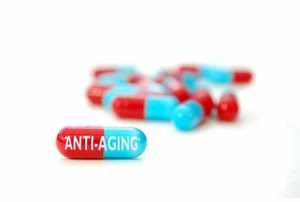 CBD Dosage for Anti-Aging
Smoke is an oxidant to the skin that beauty-lovers should want to avoid. Therefore Smoking and Vaping are not considered the best consumption methods of taking CBD for Anti-Aging.
How to use CBD for Anti-Aging?
Consistently using CBD with a small dosage of 20 to 25 mg per day helps to keep your skin and body balanced. Cannabidiol can be consumed in many different ways but usually, people take it sublingually because it is more effective. When taking it orally, you extend the route CBD has to take before it gets into your blood.
You should take a CBD oil sublingually when you want an overall effect of anti-aging for your whole body. This method keeps your complete skin young and healthy but at the same time takes care of inflammations that might be present in, for example, your brain which could ultimately lead to aging diseases like Alzheimer's, Parkinson's but also Arthritis.
Using CBD suppositories would be another option, but they usually come at higher dosages because people use them normally for more serious medical conditions.
Using CBD Topically

This product you apply directly to a problem area. Let's say you developed wrinkles in your face that especially bother you, then a CBD infused facial cream would be ideal.
Often people use this as an additional method because it only affects the areas you apply it to. In our SOL CBD reviews, you'll find two amazing CBD creams and a soothing balm for pain.
Anti-Aging Success Stories 
We have carefully collected CBD testimonials for this particular condition to serve as proof and inspiration to others. Do not hesitate to record your own experience and share it with us so we can add it to this list and help thousands of patients more.
Overview of Scientific Studies and Reports
If you are interested in the medical proof and not scared of reading through some professional medical jargon, check out the studies below.